New Delhi: Himachal Pradesh Chief Minister Jai Ram Thakur met Union Minister of Road Transport and Highways Nitin Gadkari at New Delhi today and requested him to notify 25 road stretches of the state as National Highways and also urged for sanctioning developmental works for their up-gradation.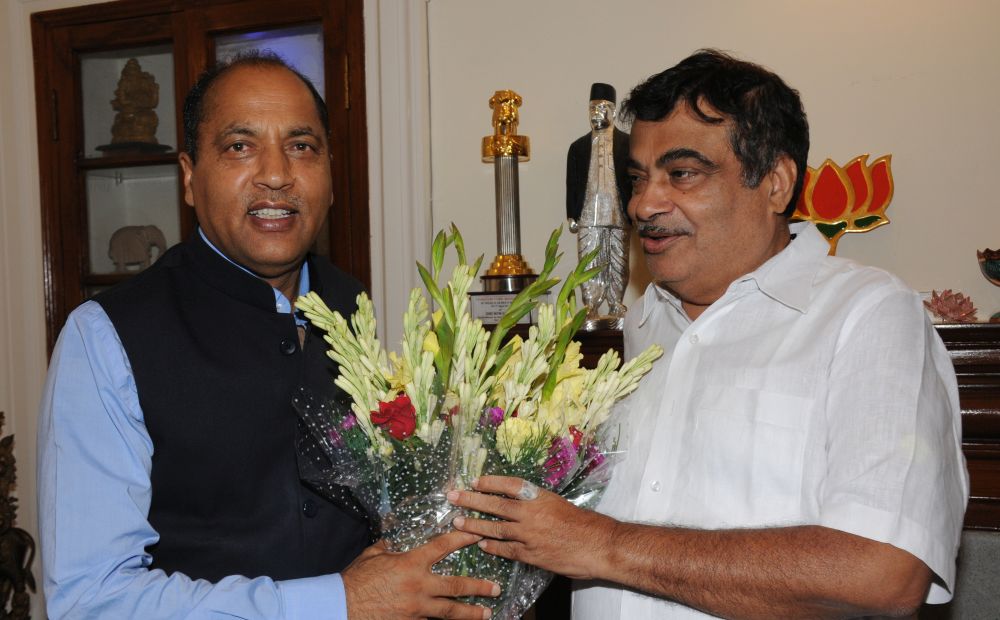 The Chief Minister informed the Union Minister that alignments of 25 stretches have been finalised and works on remaining 33 stretches shall be completed within fixed time frame. He said that Himachal Pradesh was a hill state with unique geographical and topographical conditions and roads were the lifelines and solution to ensure equitable development.
The Chief Minister also demanded for intervention in resuming work on national highway from Kiratpur to Ner Chowk as it was the main road that leads to Kullu-Manali. He requested for taking up Pathankot-Mandi and Shimla-Mataour roads as four lanes keeping in view the heavy traffic on these roads.
Nitin Gadkari assured to look into the issues and directed the officers of the Ministry to do the needful and apprise him about the progress and feasible solutions. He also asked them to ensure constructions in a manner to reduce accidents in the hill state.
Additional Chief Secretary-cum-Principal Secretary to the Chief Minister Dr. Shrikant Baldi briefed the Union Minister about the progress of projects in the state.
CM demands central approval for three projects under National Adaptation Fund for Climate Change
Chief Minister Jai Ram Thakur in his another meeting with Union Minister for Science & Technology, Ministry of Environment, Forest and Climate Change Dr. Harsh Vardhan demanded approval for three projects posed for funding under National Adaptation Fund for Climate Change (NAFCC) worth Rs 57.75 crore.
Thakur informed the Union Minister that the State Government has sent a project worth Rs 20.49 crore for reducing glacial outburst and flood risk in Parvati valley of Kullu district under National Adaptation Fund for Disaster Risk Management aiming to introduce early warning for risk and vulnerability reduction. An another project worth Rs 19.92 crore for promoting climate resilient agri-horticulture has also been submitted with an objective to promote alternative practices to provide livelihood security of farmers where fruit crops production has declined because of climate variability. It will be implemented in vulnerable blocks of Kullu specifically Anni and Banjar.
The Chief Minister told the Union Minister that State Government has also submitted a project worth Rs 17.34 crore with an objective to propagate medicinal species plantation and its conservation in the Great Himalayan National Park eco region to enhance the resilience and ensure the continuity of ecosystem function and enhance the capacities of community to address current challenge and future uncertainties with focus on gender, social inclusion and environmental rehabilitation.