Better roads, corruption free government on the government agenda, no space for vendetta politics, the CM promises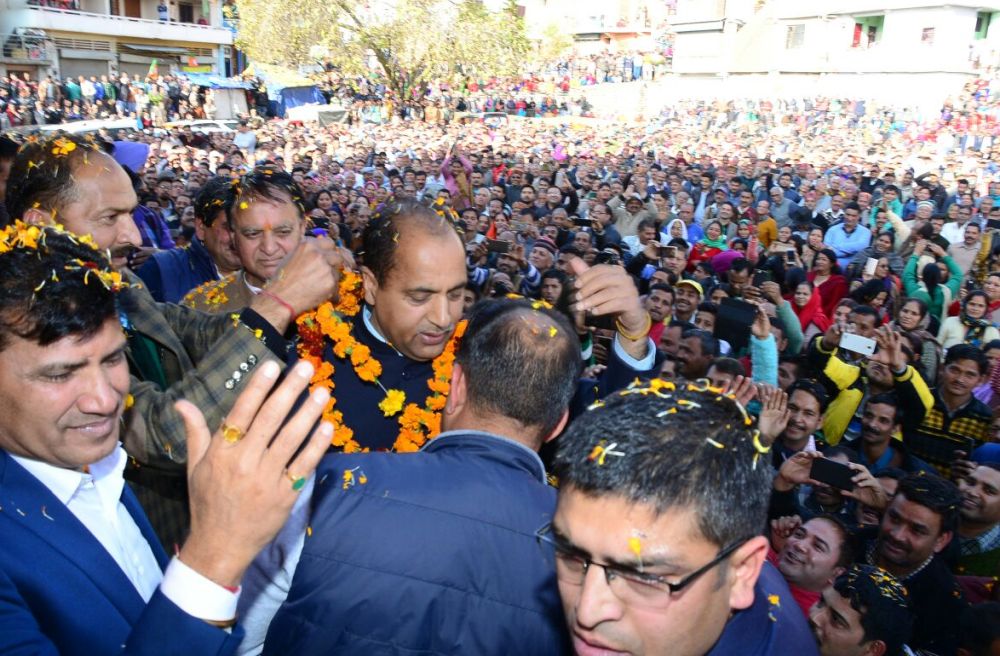 Jogindernagar: Chief Minister Jai Ram Thakur said that to give more impetus to Tourism and facilitate the people, Himachal Pradesh would be included in second phase of Udde Desh Ka Aam Nagrik (UDAN) Scheme, a regional connectivity scheme, as assured by the Prime Minister Narendra Modi.
The Chief Minister, while addressing a public meeting at Jogindernagar, said the State Government was endeavoured for providing air connectivity to the far flung areas of the hill state and he was grateful to the Prime Minister for including Himachal Pradesh under UDAN Scheme in first phase and also ensured to include the state under the Scheme in second phase as well.
Under the second phase more facilities will be provided to the people from neighbouring states as well, the Chief Minister hoped.
Roads to be improved, the CM assured
The Chief Minister also ensure to improve the condition of roads in the state. He said that roads as demanded by the people would be certainly incorporated in coming budget and adequate budgetary provision would be made to refurbish them.

Jai Ram Thakur said that under PMGSY a provision of Rs. 24.58 crore has been made for five local roads and tender process has begun, besides the Chief Minister also announced a sum of Rs. 10 crore for five roads viz: Gumma to Kharsa road Shanan-Arthi, Petu Nallah-Gaduhi road, Balakrupi to Darat Bangla and Chauntra -Tikri Mushera road. He said that the tender works for balance work of two major roads amounting to Rs. 11.18 crore was under process. Announced to construct Foot Bridge to be constructed between Multhan and Barot which was washed away few years before.
Jai Ram Govt promises not to work with motive of vendetta politics
Chief Minister Jai Ram Thakur reiterated his government commitment to provide clean and corruption free government. He also promised that the government won't work with a motive of vendetta politics, and would ensure balanced development of all region of the state.
CM thanked electorates of Mandi district
Thanking electorates of the Mandi district, where BJP won all 10 seats comfortably, Jai Ram Thakur, said that during elections the people of district completely swiped the Congress from the district, and it was but obvious that the Chief Minister would be from Mandi district. Thakur said that Mandi had missed the opportunity to have Chief Minister from the district many times right from the times Thakur Karam Singh and Sukh Ram. He said that it was a mystery as who would be the Chief Minister and the ball was finally in the court of BJP High command. Thanking Prime Minister Narender Modi for attending oath ceremony, Thakur said
"I am grateful to the Prime Minister, Narendra Modi who even had fixed the date of my oath ceremony and later joined us along with his cabinet colleagues and senior Union and State leaders"
The Chief Minister said that no one during last four years could raise fingers on the working of Prime Minister and for the very reason the BJP will rule the country for many more years in times to come and so it will be in Himachal Pradesh.
Member of Parliament Ram Swaroop Sharma, Local MLA Prakash Rana welcomed the Chief Minister and other dignitaries present on the occasion.
Irrigation and Public Health Minister Mahendar Singh Thakur, Urban Development Minister Sarveen Chaudhary, Member of Parliament Ram Swaroop Sharma, MLAs Rakesh Jamwal and Jawahar Thakur were also present on the occasion amongst others.