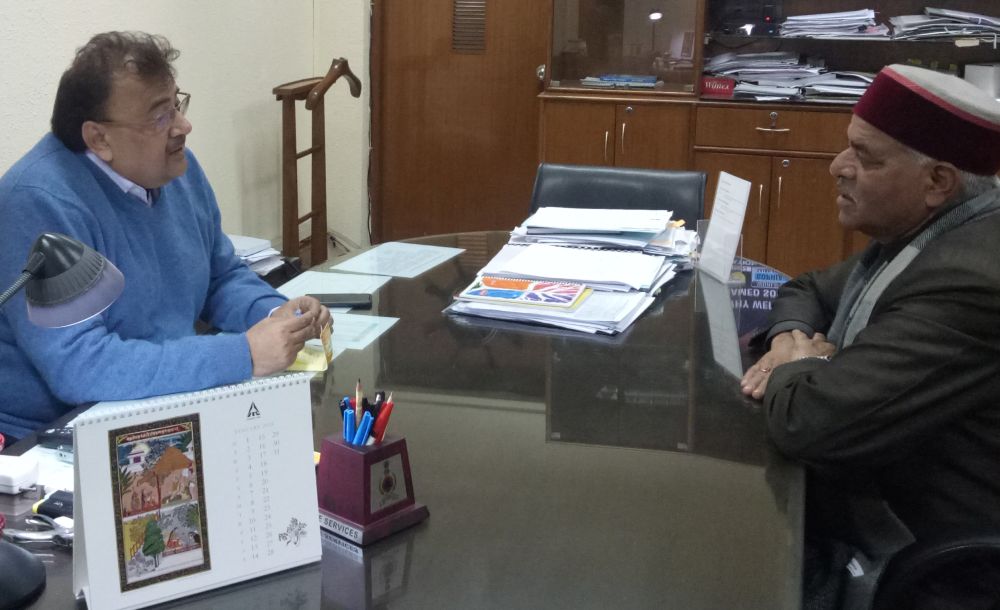 New Delhi: A high level central Govt delegation headed by Registrar General of India Sailesh Kumar will visit Trans Giri Area of Sirmour District during Feb or March 2018 to assess the legal viability to declare the Entire Trans Giri area as Scheduled Tribe on the pattern of adjoining Jaunsar area in Uttrakhand said Virender Kashyap Member Parliament who held details discussions with Registrar General of India.
Kashyap and pleaded for early declaration of 127 panchayats with around 3 lakh population in Trans Giri area of Sirmour District as Schduled areas to meet long pending genuine demand of Hattee Community.
Shimla Member Parliament also submitted a letter to Prime Minister Narender Modi and requested him to intervene in the matter for immediate redressal of genuine grievances of "Haati Community" which has been deprived of their legal right since last 50 years by successive State and Central Govt.
Virender Kashyap apprised PM that while adjoining Jaunsar Area of Uttrakhand having similar geographical and topographical condition has been declared as Schduled Tribe area in 1967 while the Trans Giri area residents are living in much tougher terrain and difficult condition has been left out despite of several promises made to them by respective State and Central Govts.
BJP parliamentarian Virender Kashyap blamed weak political leadership in Himachal Pradesh for not lobbing successfully for the Schedule Tribe status.
Kashyap claimed that vast area of Sirmour District beyond the Giri River has remained backward and not witnessed any development even after 60 years of Independence. He said that Trans-Giri area fulfills all eligibility conditions laid down by the Lokur Committee for declaring it as Scheduled Area
The Haati community were demanding declaration of entire Trans – Giri area of Sirmour District as Tribal Area on the pattern of Jaunsar –Bawar area of adjoining Uttrakhand state due to similarity in topography, geography, social, cultural and other similarly in customs, traditions and life style of local populations with their neighbor in Uttrakhand state. The entire Trans Giri area still practices ancient traditions and culture that are different from rest of country. However, their request went unheard for several decades.
The state of Himachal Pradesh had various times in the past approached Union Government for including Trans-Giri and other tough region of the state under scheduled tribe area, but all its demands were unheard by the Union Government.