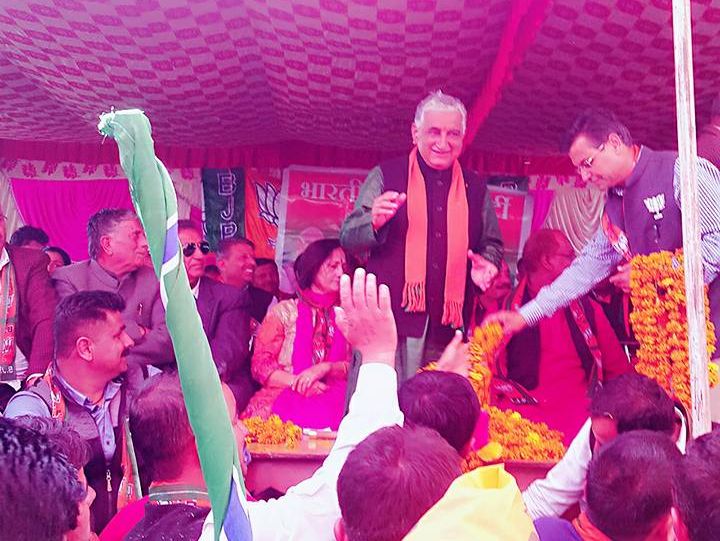 Theog: Senior BJP leader and three times legislature Rakesh Verma has filed his nomination paper from Theog assembly constituency. He was accompanied by thousands of supporters of the constituency.
He thanked supporters and paid gratitude for coming in huge number. He sought their support for the November 9 election. Taking jibe at the Vidya Stokes, Rakesh Verma accused her for taking segment five years back and now Theog will need ten years to control the damage only. He dared Stokes to name any project for the Theog.
Rakesh Verma, while addressing supporters, accused Congress leader for befooling people of the Theog assembly segment. He blamed Stokes for stalling the development of the Theog assembly segment. On the name of development Congress had just made announcement and laid foundation stone of various projects, Rakesh Verma further added.
Rakesh Verma also claimed the Congress led State government has failed on all front, and every department were infested with corruption, which only derailed the developmental activities. He also promised to expose the corruption of the congress leaders.
He also taken up deteriorating law and order situation in the state. Taking cognizance of Kotkhai Rape & Murder case, Verma blamed government for failing to give justice to innocent girl. He accused Congress government for failing to nab culprits as all accused have secured bail and police personnel, who investigated the case, are behind the bar.
Rakesh Verma also blamed congress led state government for failing to take benefit from the Union Government and even after sanctioning various projects with enough financial support, congress led government has failed to execute them. Modi government sanctioned premier medical institute AIIMS for the state within six months of coming in power, but state government took more than three years to provide appropriate land, Verma said in his address and promised to benefit the people of the state with central government initiatives, if came into power in the state.
Rakesh Verma had started his political career in 1993 as a BJP candidate and defeated Congress heavyweight Vidya Stokes with comfortable margin. He, however, lost the seat in 1998 to Stokes, but won in 2003 and 2007 as an independent candidate.
Vidya Stokes, who had earlier announced retirement from active politics, had invited Chief Minister Virbhadra Singh to contest from Theog constituency, but Congress high-command shifted Singh to Arki segment. With the latest political development, Vidya Stokes is expected to be Congress candidate from Theog and with Rakesh Singha's presence as CPM candidate, Theog constituency again going to be tough and interesting.
Himachal Elections 2017 will be Verma's sixth assembly election. He had won trice and contested two election unsuccessfully. He knows the ins and outs of politics in the area, and active in the region from last three decade, makes him one of the tough contender from the segment.