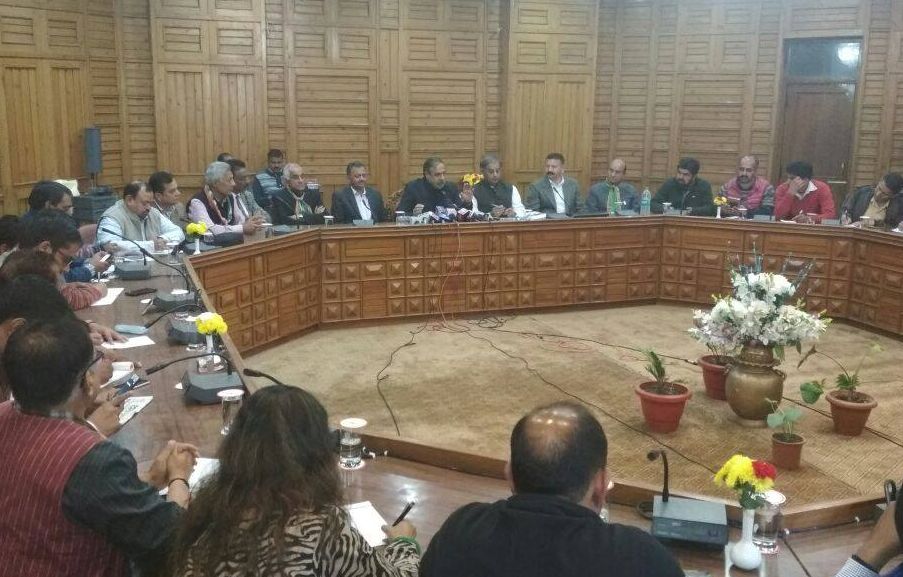 Shimla: Congress leader Anand Sharma blamed NDA Government for taking reckless decision and consequently impacting the economy negatively.
Anand Sharma, while addressing press today, asked Prime Minister to apologies over its decision of demonetisation. He termed the demonetisation a 'scam' and dared him to order an investigation into it. He said that 143 innocent lives were lost due to the long queues outside banks after demonetisation. He challenged Prime Minister Narandra Modi and Finance Minister Arun Jaitley for a debate on economy.
Former Union Minister in UPA Government Anand Sharma claimed that GST and demonetisation has derailed the Indian economy, and further impacted negatively on job creation countrywide and leading to unemployment of crore of youths.
Congress leader also blamed the BJP for politicizing the sacrifice of martyrs in its 'Vision Document' and accused saffron outfit for trying to earn politically from unfortunate crime. He claimed that as per NCRB data crimes against women is highest in BJP ruled states. He said that BJP's 'Vision Document' is nothing but a compilation of promises only to woo electorates, and on ground level it has no standing.
Sharma also accused BJP for adopting duel standard over the corruption. He said that Modi Government hasn't even bothered to look at the allegations against Amit Shah's son.
Raising question over the spending in Himachal Pradesh Assembly election, Anand Sharma asked BJP to reveal the source to foot the bills of helicopter use for its star campaigners.
Disavowing the impact of former Union Minister Sukh Ram's leaving Congress just before the assembly election, Shamra, however, showed remorse with the Dr. YS Parmar grandson's decision of leaving Congress party for BJP.
Earlier yesterday, Anand Sharma campaigned in Shimla Urban assembly constituency in favor Congress official candidate Harbhajan Singh Bhaji. Sharma also condemn of Congress dissident for contesting assembly poll and advised him to support party candidate and ensure Congress victory in the election.