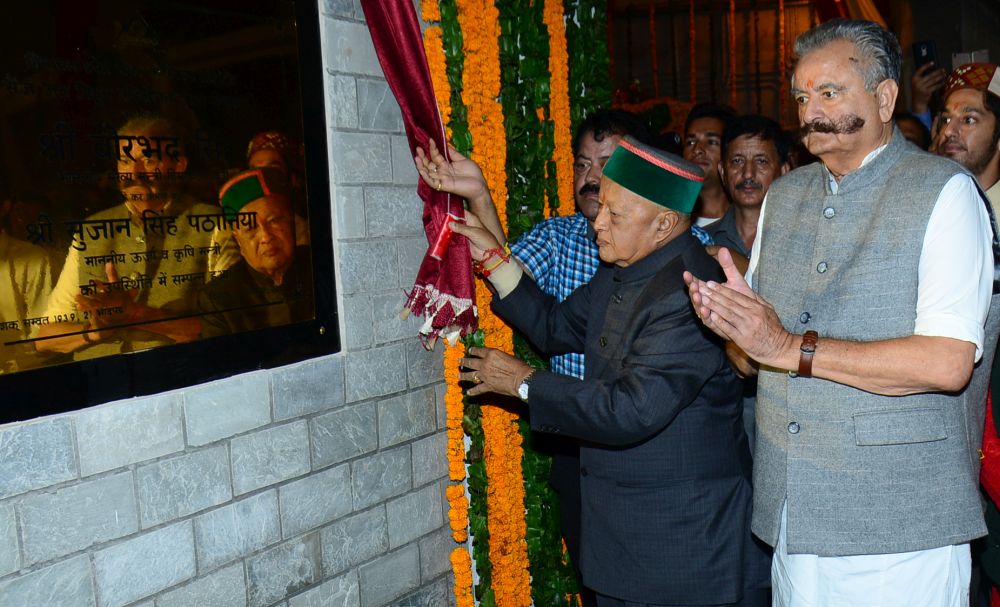 Sainj/Kullu: Chief Minister Virbhadra Singh dedicated 100 MW (50X50 MW) Sainj hydroelectric project of Himachal Pradesh Power Corporation Limited (HPPCL) at Sainj in district Kullu today.
The Sainj hydroelectric project is registered as 'Green Power Project' under clean development mechanism and evacuating 400 KV power directly on the power grid network and 400 KV Gas Insulated Switchgear.
The power generation will be fed into the northern region grid through 'Loop in Loop out' arrangement with Parbati-II and III, hydel electric power project.
The project would earn revenue of Rs 80 crore to Rs.100 crore per annum.
The Chief Minister expressed pleasure on the steps taken for rehabilitation and relief provided to Project Affected Families (PAFs) by HPPCL. He said that the PAFs would be provided 100 units free electricity per month as per the policy.
Sujan Singh Pathania revealed that under relief and rehabilitation, 216 land owners were paid compensation of Rs 1,66,44.198. As many as 20 Project Affected Families (PAFs) had been given Rs. 1,35,00,000. He said that benefits of merit and support scholarship were extended to 255 wards of the PAFs.
Managing Director, HPPCL Devesh Kumar said that foundation stone of the Sainj project was laid in November, 2009 and Under skill upgradation 71 wards of PAFs were sponsored in various it ITIs of Himachal Pradesh incurring an expenditure of Rs 28,24,162.
He said that as per the policy, one percent of the revenue from power generation would be contributed towards Local Area Development Fund during the operation of the stage of the project.