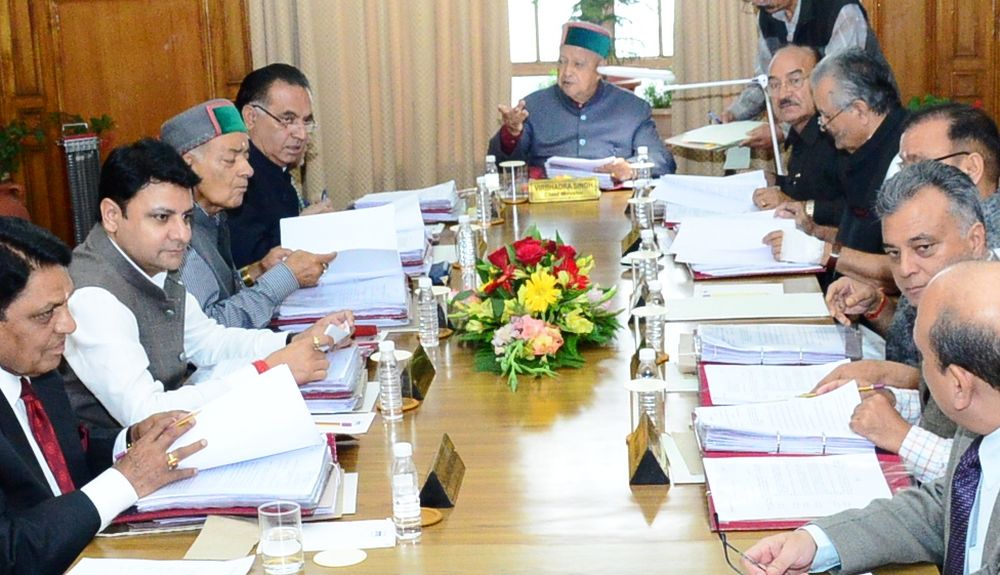 The Himachal Pradesh Cabinet approved the setting up of Himachal Pradesh Central Inspection System (HPCIS) for ease of doing business covering department of Labour and Employment, Himachal Pradesh Pollution Control Board, Industries Department etc. for more effective planning of inspections.
The cabinet, presided by Chief Minister Virbhadra Singh, also approved Senior Citizen Health Insurance Scheme (SCHIS) with an objective to provide easy access to curative geriatric health care services by way of additional insurance cover for utilization by senior citizens aged 60 and above and enrolled under Rashtriya Swasthay Bima Yojna only.
The scheme shall provide an additional coverage of Rs. 30,000 per senior citizen per year in the eligible RSBY beneficiary family. A beneficiary under SCHIS will be able to get cashless treatment in any of RSBY empanelled hospitals. At present there are 1, 30,587 senior citizens enrolled under RSBY in the State
The Cabinet accorded approval to relax educational and other qualification for direct recruitment on class-IV posts and services against direct recruitment quota posts in favour of visually impaired persons who have crossed age of 35 years. It also gave relaxation in other qualification prescribed for direct recruits for the post of Junior Office Assistant (IT) i.e. diploma in computer science in favour of visual impaired. The selected visually impaired persons after appointment may not be insisted up on to complete the diploma as required in the light of recruitment rules and may be imparted basic computer training by the concerned departments.
The Cabinet approved that the Staff nurses and other para-medical staff appointed under Rogi Kalyan Samitis (RKS) through Staff Selection Hamirpur, after following the proper procedure of recruitment as per R&P Rules would be considered for regularization after 3 years' service, at par with the other contractual employees of the state.
To benefit the Himachali's and to meet the power requirements of remote areas investing in Micro-hydel projects upto 100 KW, the Cabinet decided that the HPSEBL will buy the power from the projects up-to 100 KW capacity and the royalty rates for these projects will be 2 percent for first 12 years, 12 percent from 13 to 30 years and 18 percent from 31 to 40.
As a big relief measure to the power producers, the Cabinet gave its nod to reduce the Capacity Addition Charges from Rs. 20 lakh per MW to Rs. One lakh per MW or the upfront premium quoted whichever is higher, for those projects whose installed capacity after capacity enhancement is more than 5 MW. This provision will be applicable only to those projects where revised capacity agreements for enhancement of capacity have not been signed and for all projects which will have capacity enhancement after the notification of this provision. The above provision shall not be applicable to the projects where revised capacity agreements have already been approved and signed.
Cabinet gave its nod for setting up of Special Purpose Vehicle (SPV) for the implementation of the Smart City Mission at Shimla. Shimla smart city will have a robust advisory mechanism in shape of city advisory forum comprising of all stakeholders for rendering support to SPV at all stages of planning and implementation.
The Cabinet decided to declare Maa Nagarkoti Fair Narag, Ram Navami Fair Nainatikkar, Gugga Navami Fair Pabiana (Dhawag) of district Sirmaur and Mata Durga Gaada Gushaini Fair in Mandi as district level fairs.

Acts/Rules
Cabinet gave its approval for formulation of The Himachal Pradesh Administrative Tribunal (Recruitment and Promotions and other conditions of services of officer and other employees of the Administrative Tribunal) Rules, 2-17.
Cabinet also approved amendment in Himachal Pradesh Technical University Act, 2014. Under the amendment of Section 12 (6) of the Act the Vice Chancellor shall be appointed for a period of 3 years and eligible for reappointment for further three years but not beyond the age of 70.
The Cabinet approved the draft for revival of Medium, Small Scale and Micro Industries in the State. A sub-Committee would be formed in this regard.