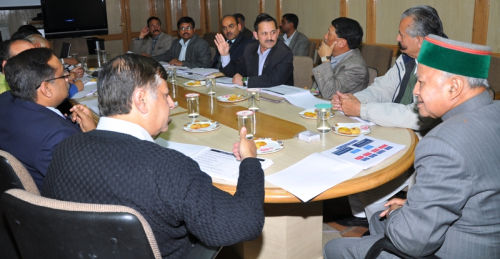 In a Departmental Review Meeting of MPP & Power and Non-Conventional Energy Sources, Chief Minister Virbhadra Singh directed that timely completion of all hydro power projects should be ensured in order to check price escalation. He directed that a committee headed by Chief Secretary would now on supervise and monitor all the progress and to sort out problems of getting various clearances without delay in single window system.
Chief Minister expressed happiness over the increase in revised estimated potential of 27433 MW as compare to old 23000 MW in all five major river basins. He said that according to recent survey done major increase was recorded in Satluj basin which was 13331 MW as compared to 10391 MW of old survey.
Chief Minister said that it was a matter of pleasure that more than 30 projects having capacity of 2200 MW would be completed and commissioned in current fiscal which would be more than commissioned in last five years. He said that Parbati Project (520MW) was almost complete while Sorang (150 MW) would be completed in next month and Kut (24 MW) in June 2013, Kol Dam (800 MW) in October 2013, Rampur (412 MW) in Sept. 2013, Kashang-1 (65 MW) in Oct. 2013 and Lamadug (25 MW) in March 2014, Ganvi-II (10 MW) in June 2013, Jogni (16 MW), Kurmi (8 MW) and Rala (9 MW) in October 2013, Baner-II (6 MW), Tangnu Romai-II (6 MW) and Bara Gaon (24 MW) in December 2013, and Phojal (9 MW), Brua (9 MW) and Nanti (14 MW) would be completed in March 2014.
Virbhadra Singh said that Neogal 15 MW was already commissioned on 22nd April 2013. He said that 13 projects of less than five MW of 35.90 MW capacities would be commissioned by HIMURJA in 2013-14. He said that after completion, these projects will give annual revenue of about Rs. 213 crores approx. (@ 12 % free power at Rs. 2.90 per unit) for first 12 years which would increase in following years. Besides, additional revenue of Rs. 89.65 crores would be generated on account of free power sale in current fiscal, he added.
He said that 8418 MW hydro power had already been exploited in the state and 4233 MW were being executed by various agencies. He said that various projects of 2982 MW capacity had been sent for obtaining clearances while 5132 MW were being investigated in the State. He said that Directorate of Energy (DoE) was examining the Hydro Policy-2006 with a view to expedite clearances from all Government agencies and Departments and to avoid multiple NOCs from Gram Sabha for same project.
Chief Minister directed to speed up the finalization of the Solar Policy for the State. He asked to complete Cumulative Environment Impact Assessment Studies (CEIA) of all river basins on priority. He further asked to complete the studies of Satluj Basin which in advance stage and to expedite the progress in Chenab basin. He said that Terms of References (ToRs) for Beas basin had been sent to Ministry of Environment and Forests (MoEF) for approval while ToRs for Ravi and Yamuna basins were being prepared.
Virbhadra Singh said that an Authority on Hydro Projects Safety and Quality Control would be set up in DoE for monitoring safety and quality of construction for the forty years till the project was handed over to Government of Himachal Pradesh. He said that DoE designated as "State Designated Agency" (SDA) and State Energy Conservation Fund (SECF) was created. He directed to undertake base line survey to assess awareness level of consumers on various issues including energy conservation.
Chief Minister said that H.P. Power Corporation Ltd. was executing 20 projects with 3026 MW potential. Out of these, five projects (856 MW) were under construction, 8 projects (1235 MW) were under investigation while 7 projects (935 MW) were at pre-feasibility study stage.
Virbhadra Singh said that the tariff rates for domestic consumers with subsidy were lowest in Himachal as compared to other neighboring states. He said that computerized IT billing were being done in 132 sub-divisions in the State and all Lok Mitra Kendras were providing this facility. He said that 24×7 payment Kiosks were installed in big towns besides online bill payment facility was introduced to facilitate the consumers.
Principal Secretary MPP & Power and Personnel S.K.B.S. Negi, told that Web based monitoring system to track each project against time line was being tested and would be launched soon. He said that out of total free power entitlement of 935 MW, 109 MW was being utilized by HPSEB at mutually agreed rates. Free power of 823 MW was being traded by DoE during summer and monsoon months while the same was being made available to HPSEBL during winter and as per need. He said that during 2012-13 revenue of Rs. 700 crores was generated on account of sale of power. He said that efforts were being done to minimize the losses of HPSEBL.
Chairman-cum-Managing Director HPSEBL R.D. Dhiman, informed that they have 21 own generating stations with installed capacity of 477.45 MW in the State. He said that all 17483 villages were electrified having 2084152 consumers. He said that there were 1765293 domestic, 231567 commercial and 21559 non-domestic non-commercial consumers. He said that industrial consumers were only 1.7 per cent which consumes 62.13 per cent power (including 2.83 % small & medium industries). He said that domestic consumers account for 85 % of the total consumers which use 20.3% power while 12 % commercial consumers consume 6 % power and Government Irrigation and Water Supply Schemes consume 6 % power.
Chief Secretary S. Roy, Advisor to the Chief Minister T.G. Negi, Principal Secretary to the Chief Minister V.C. Pharka, Principal Secretary Administrative Reforms Sanjay Gupta, Secretary Finance Manish Garg, M.D, Power Corporation, D.K. Sharma and senior officers of MPP & Power, HIMURJA and HPPTCL participated in the meeting.