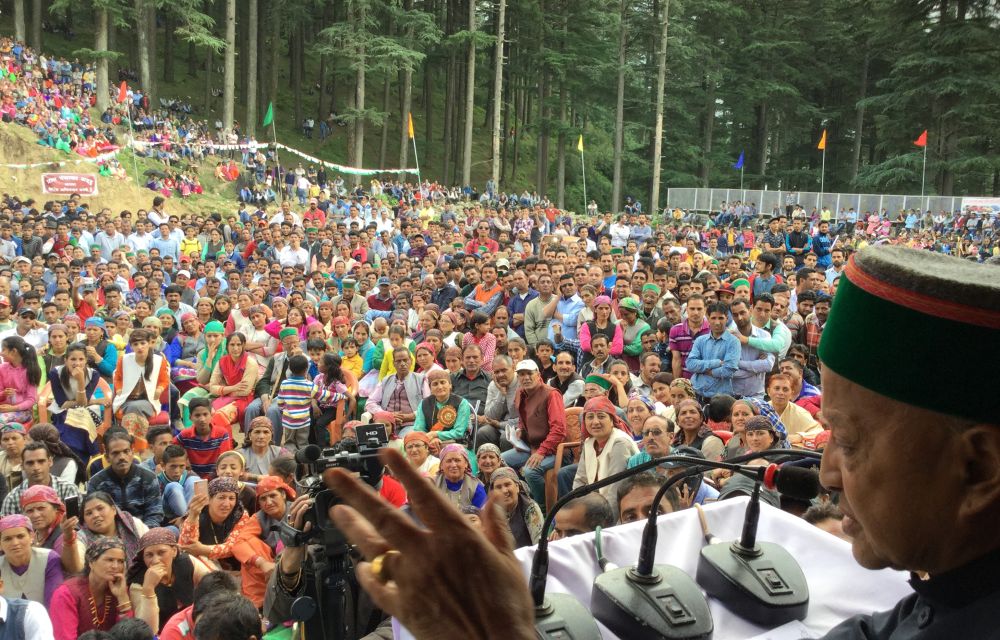 Veteran Congress leader and Himachal Chief Minister Virbhadra Singh termed the 'Parivartan Rally' by BJP was a mere flop show. Congress leader, speaking at a public meeting at Khamaadi in Rampur assembly segment of Shimla district, termed the rally a display of pomp and show, adding that one should reach to the people in far flung areas and villages to muster support and not by Rath Yatras and so called Parivartan Rallies.
He said that now elections were nearing and many so called leaders would crop up to lure the people to vote in favour of their candidates. The people should be aware of such divisive forces as their sole motive was to lure the public.
The Chief Minister blamed the BJP for ignoring the Rampur region of the state and claimed that BJP when in power hadn't constructed even a single room or a road.
Chief Minister Virbhadra Singh today announced to upgrade Sub-tehsil Nankhari in Rampur assembly segment to Tehsil, announced PWD rest house Ayurveda dispensary at Khamaadi and assured for opening of branch of co-operative bank there after the survey.
He directed for construction of Khamaadi-Khaadapani road and assured to provide adequate funds for renovation of Sihaasani Mata Temple.
The Chief Minister also announced for opening Veterinary dispensary at Beot, converting Tharu helipad into Mini stadium and expansion of PWD rest house at Nankhari.
The Chief Minister also presided over the closing ceremony of 6th North Zone Volleyball Championship at Nankhari. He congratulated the organizers for conducting the sports meet successfully.
Teams of HSIIDC, Panchkula, Punjab Police, Sports Club Roorkee, Sports hostel Karnal, Sports hostel Matiana, and Sports Club Meerut participated in the Championship. Punjab Police lifted the trophy.
Earlier, the Chief Minister laid foundation stone of gravity water supply scheme (GWSS) Kungal Balti to be completed with an outlay of Rs. 85 lakh.
He also laid foundation stones of Primary Health Centre at Kungal Balti to cost Rs. 43 Lakh, Government Senior Secondary School (GSSS) building Kungal Balti to cost of Rs.2.82 crore and GSSS building Khamadi to be completed with an outlay of Rs. 6.01 crore.
He inaugurated additional accommodation of GSSS Kungal Balti constructed by Himachal Pradesh State Industrial Development Corporation at a cost of Rs. 15 lakh, inaugurated Adarshnagar-Karoli road completed at a cost Rs.2.16 crore, Rs. 20 lakh Ayurvedic Dispensary building at Shakla and new Police Station at Nankhari.