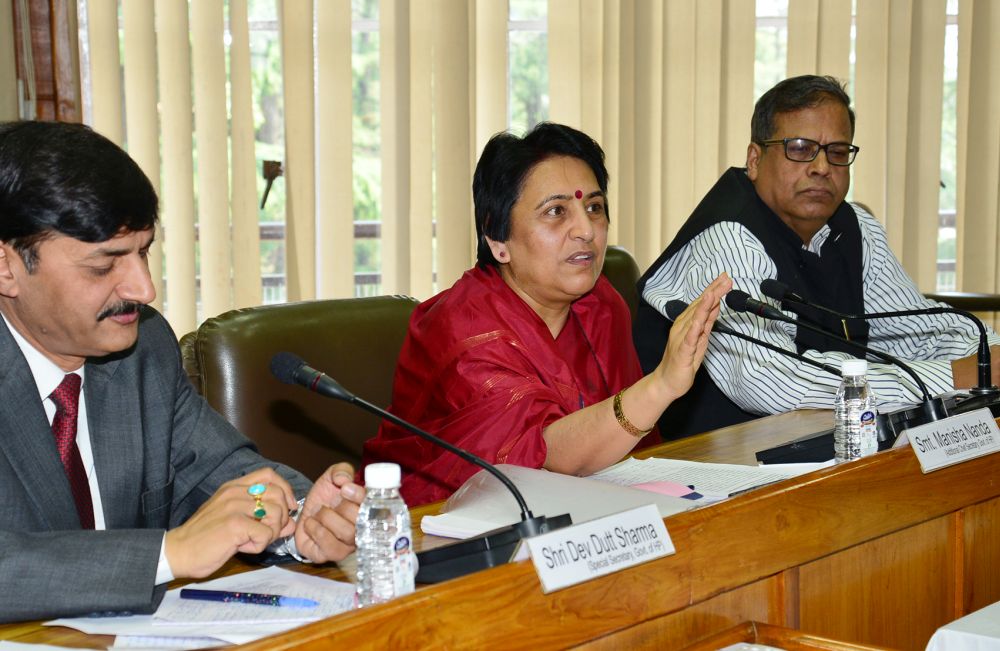 Shimla: Hilly terrain of Himachal Pradesh is vulnerable to the natural disasters. Because of fragile eco system of this Himalayan region, the state has witnessed various natural disasters in the past and suffered huge loss.
Preparing for mitigating the risk from natural disasters, the state government preparing a State Disaster Management Plan, and today in a State level consultation workshop on finalization of State Disaster Management Plan-2017. Additional Chief Secretary Manisha Nanda emphasized for detailed and updated records of identified elements at risk including children, women, old age people, sick and ailing persons, livestock etc along with detailed inventory of infrastructure likely to be affected by different disasters.
It was high time for all concerned to appreciate that disasters needed to be handled through a detailed comprehensive and participatory strategy, She further added.
Additional Chief Secretary said that Himachal Pradesh was vulnerable to various disasters as it falls in Himalayan region which has fragile eco system. She said that though urbanization was less in this hilly state but there is constant urban migration which cannot be stopped , but steps should be taken for planned and disaster resilient buildings and other infrastructure.
Manisha Nanda said that there should be comprehensive planning not only to protect ourselves, but future generations also, as we should think for the best and prepare for the worst. She also stressed the need for launching campaign to educate the masses about preparing themselves for pre-during and post disaster situations.
Special Secretary, Revenue and Disaster Management Dev Dutt Sharma, discussed about the complexity of Indian Himalayan region and said that this region was among the most complex and diverse mountain ecosystems in the world, and home to an estimated 72 million people. Nearly one billion people depend upon hydrological resources and ecosystem services that originate from this unique environment.
He said that it was fact that the hazards could not be prevented but certainly the losses emanating out of disasters could be substantially reduced, if not absolutely eliminated. He said HP State Disaster Management Plan seeks timely preparedness on the part of people and institutions and Government agencies involved.
He said that a high powered committee has identified 25 hazards in Himachal Pradesh out of total 33 hazards which could occur in various parts of the state.
He urged all stakeholder departments to utilize the contents and knowledge of State Disaster Management Plan 2017 for safer and disaster resilient Himachal Pradesh. He said the plan would be made fully functional and implemented throughout the State.
Lead Consultant & Disaster Management Expert Dr. P.G. Dhar Chakrabarti said that about 30 departments in Himachal have prepared their disaster management plans. He said that 25 per cent of the funds under Government of India flag ship programmes like MNREGA, National Health Mission, Smart and Amrut Cities etc. could be utilized for disaster risk reduction purposes.
The workshop was organized by the Disaster Management Cell, Revenue Department with the support of UNDP India. DGP Sanjay Kumar, Economic Advisor Pradeep Chauhan and other senior officers of the state government attended the workshop.
Earlier in 2012 the Himachal Pradesh had prepared comprehensive State Management Plan. Himachal Pradesh was the first state to prepare Hazard Risk Vulnerability Assessment (HR Atlas) which was available in public domain.