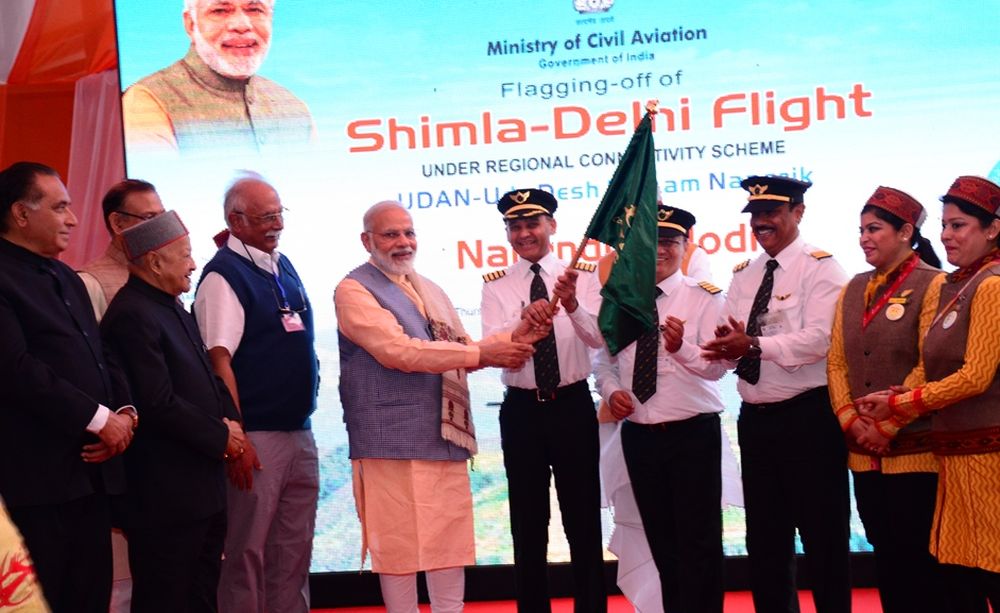 Shimla: The Prime Minister Narendra Modi, today launched UDAN – the Regional Connectivity Scheme for civil aviation, from Shimla Airport. Under this scheme, flights have begun today from Shimla, Nanded and Kadapa Airports.
The Prime Minister also unveiled an e-plaque to mark the laying of Foundation Stone of a Hydro Engineering College at Bilaspur, Himachal Pradesh.
The Prime Minister addressed the gathering at Shimla Airport, and also at Nanded and Kadapa via video link.
He said the lives of the middle class are being transformed, and their aspirations are rising. He said that given the right chance, they can do wonders. He added that the aviation sector in India is filled with opportunity. Mentioning the scheme name – UDAN – Ude Desh Ka Aam Naagrik – he said that aviation was once considered the domain of a select few, but that has changed now.
The Prime Minister said the new civil aviation policy marks an opportunity to cater to the aspirations of the people of India. He said Tier-2 and Tier-3 cities are becoming growth engines, and enhanced aviation connectivity between them will be beneficial.
He said the UDAN scheme will help the tourism sector in Himachal Pradesh.
Under the Ude Desh ka Aam Naagrik (UDAN) scheme, airfare for an hour's journey (approximately 500 km) on a fixed wing aircraft or for a 30-minute journey on a helicopter would be capped at Rs. 2,500.
The UDAN Scheme, a key component of the National Civil Aviation Policy (NCAP), was released on June 15 last year. The Civil Aviation Ministry has already awarded 128 routes connecting 70 airports to five airlines under the UDAN scheme.
Under the UDAN scheme, the government will extend subsidy in the form of viability gap funding to the operators flying on these routes.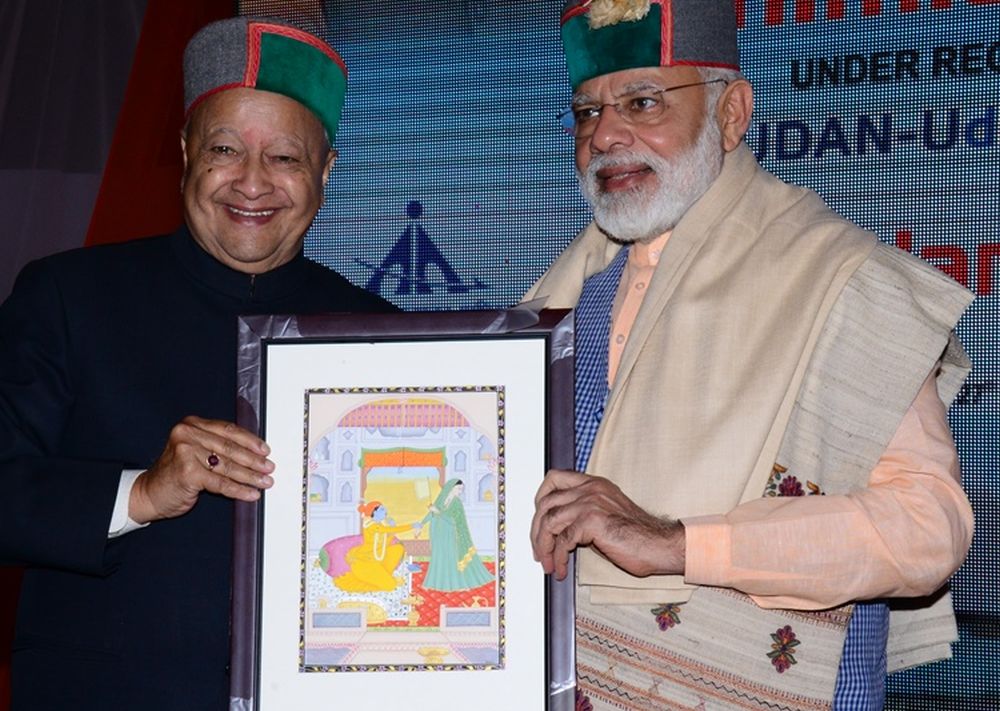 Earlier, Chief Minister Virbhadra Singh accorded rousing red carpet welcome to Prime Minister Narendra Modi at Jubbalhatti Airport. The Chief Minister honoured the Prime Minister with a Himachali cap and presented him the Kangra miniature painting.
Virbhadra Singh later gave a warm farewell to Narendra Modi at Annandale helipad along-with Transport and Civil Aviation & Technical Education Minster G.S. Bali and Mayor Sanjay Chauhan and senior officers of the State Government.