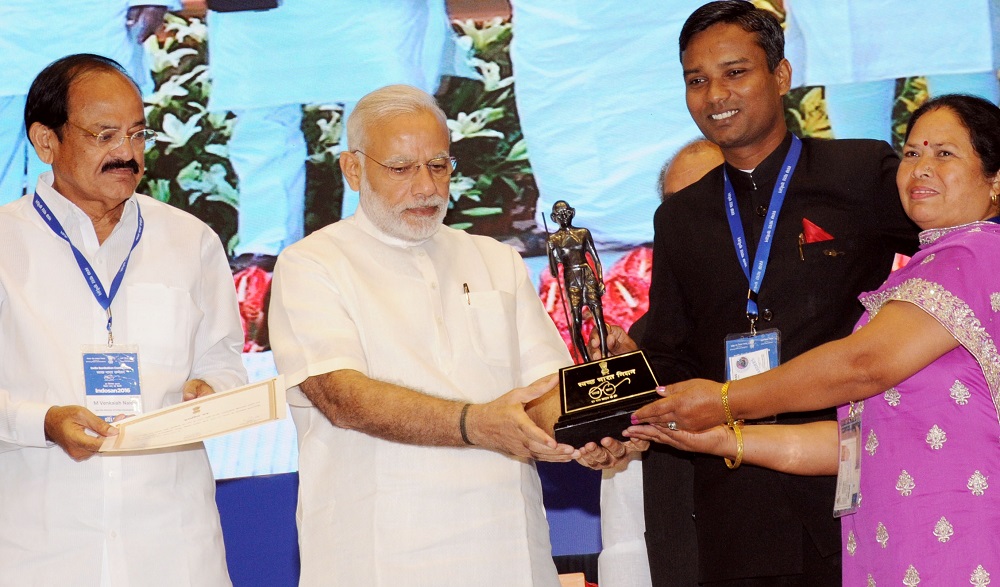 Himachal Pradesh has received first prize at National level for implementation of Swatch Bharat Mission and AMRUT Mission.
Government Spokesperson said that Mandi district has been declared as open defecation free district under Swatch Bharat Mission whereas Shimla received prize for commendable job under AMRUT Mission.
The Spokesperson said that during the one day INDO-SAN 2016 Conference, Prime Minister Narender Modi presented the award to Mandi District's Deputy Commissioner Sandeep Kadam and Block Development Officer Vasundra Sood.
Union Minister Vankaiah Naidu also presented the award to Urban Development Minister Sudhir Sharma for active implementation of the AMRUT Mission as per the rules and regulations in Shimla and Kullu districts and e- governance and for exemplary initiatives in various schemes.
While speaking on the occasion, Sudhir Sharma said that Himachal Pradesh was touching new heights under the leadership of Chief Minister Virbhadra Singh. He said the credit for the national awards received by the State goes to the State Government and the hard working people of the State. He said that Himachal Pradesh has always been active in implementation of the Central Sponsored Schemes and in future also would be giving priority to the schemes such as AMRUT Mission, Swatch Bharat Mission and Smart City.
He also thanked the Prime Minister for appreciating the efforts of the State Government.
While appreciating the efforts of the officers and employees working towards the AMRUT Mission, he said that the State would receive an incentive of Rs. 3.54 crore for the Year 2015-16 which would provide new direction to the developmental works in these districts.
He also thanked the Central Government for awarding Himachal Pradesh with National Level Award.
Rural Development Minister and PRI Minister Anil Sharma while reacting to Mandi District being awarded for free of open defecation and receiving the National level award, congratulated the district administration and the people of the District for the award, who have presented the model of development. He assured the Central Government that the State Government would be actively implementing the schemes for rural development.
Director Urban Development Department Dr. R.K. Pruthi and Municipal Corporation Commissioner Shri Pankaj Rai were also present on this occasion.