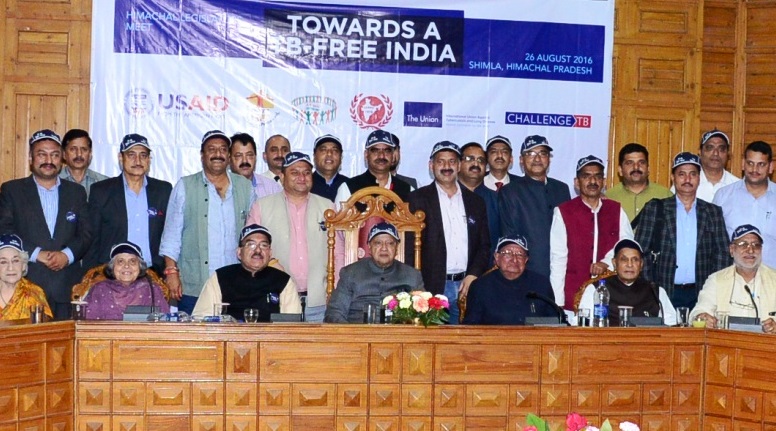 Shimla: Himachal Pradesh Chief Minister Virbhadra Singh claimed that State Government was taking proactive steps to set new benchmark in the development and health indicators.
The Chief Minister, while addressing the Legislators Meet towards a TB (Tuberculosis) free India organized by Indian Association of Parliamentarians on Population and Development here last evening, said that TB had emerged as one of the biggest challenge to the public health system in India. This disease was a major barrier for development for any country.
He said that the State Government was providing quality diagnostic and treatment services of TB care through 12 districts TB centres, 72 TB units and 190 designated microscopic centres. All Allopathic and Ayurvedic health institutions are functioning as DOT (Directly Observed Treatment) centres, providing treatment services. Near about 2 lakh TB patients had been treated and cured since 1995 under the programme, he added.
Chief Minister said that tuberculosis was a big problem and Legislators can play an important role for TB control by generating awareness, strengthening infrastructure or community engagement. State Government had recruited 41 LTs and 24 Senior Treatment Supervisors since January 2016 onwards, other vacant posts would also be filled soon, he added.
Chief Minister said that we have a great responsibility for ensuring TB control in the state. People still have lots of misconceptions about TB which was resulting in poor intake of diagnostic services, improper treatment, lack of adherence to treatment which was making the problem even bigger.
Brij Bihari Lal Butail, Speaker Himachal Pradesh Vidhan Sabha advocated for taking effective steps for generating awareness about this disease among the population.
Leader of Opposition Prem Kumar Dhumal said that elected representatives were heard and understood well by the community, so their direct engagement was now required to discuss status of disease control efforts.
Health Minister Kaul Singh Thakur said that non adherence to anti TB treatment, incomplete and inadequate treatment of TB leads to more complicated form of TB also called Multi Drug Resistant (MDR). MDR–TB in recent time had posed a great challenge to us. The diagnostic service for MDR- TB was now adequately available. CBNAAT was a new machine for digonosting MDR – TB. There were total 9 machines in the state out of which 8 machines had been installed since February, 2016 onwards. These machines would also be installed in remaining 3 districts soon, he added.