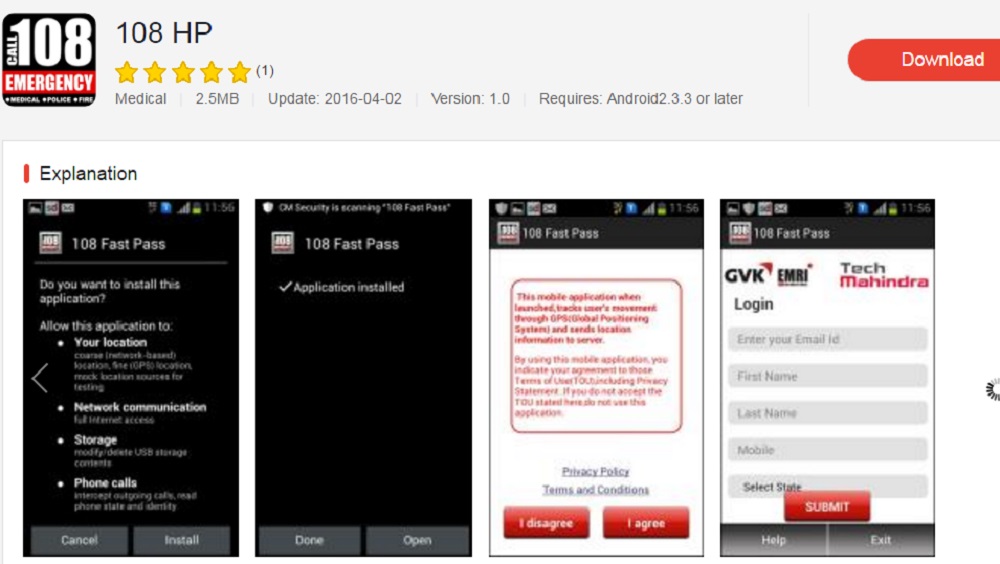 Shimla: The 108 ambulance service is a big hit in the state. Aiming to increase its reach, the state government has started an android based mobile application '108 HP'.
User will have to install 108 HP App after completing registration process user will get the unique registration ID. The device should be GPS & GPRS enabled while calling 108 HP helpline. On clicking the App, it will redirect on Google maps fetching user's current position.
The user can then call on 108 helpline number by clicking on the green button. While calling, user's current position along with registration ID will be transmitted at 108 helpline center where the counsellors will be able to see user's current position in google maps and on requirement can send nearest ambulance.
The App won't bite much storage capacity of user's device as this Medical app is just 2.5mb.
Health and Family Welfare Minister Kaul Singh Thakur, while speaking to the media, said 108 Mobile App would help the people to avail the facility of the National Ambulance Service at the earliest during emergency.
The Health Minister also flagged off five new ambulances under 108- National Ambulance Service from the historic Ridge maidan. These vehicles would serve at health centres of Jalog and Rampur in Shimla District, Chatari in Mandi District, Gagret in Una District and Bharari in Bilaspur District.
With the inclusion of these five ambulances the fleet under 108- National Ambulance Services have increased to 199. 108 ambulance services has facilitated over 7.50 lakh emergency cases. Besides this, 102 Janani Express is also facilitating pregnant women from home to hospital and after delivery to their door step, and so far 82000 women have benefited through it.
Himachal Pradesh is running an Emergency Response System through a PPP agreement with GVK- EMRI.