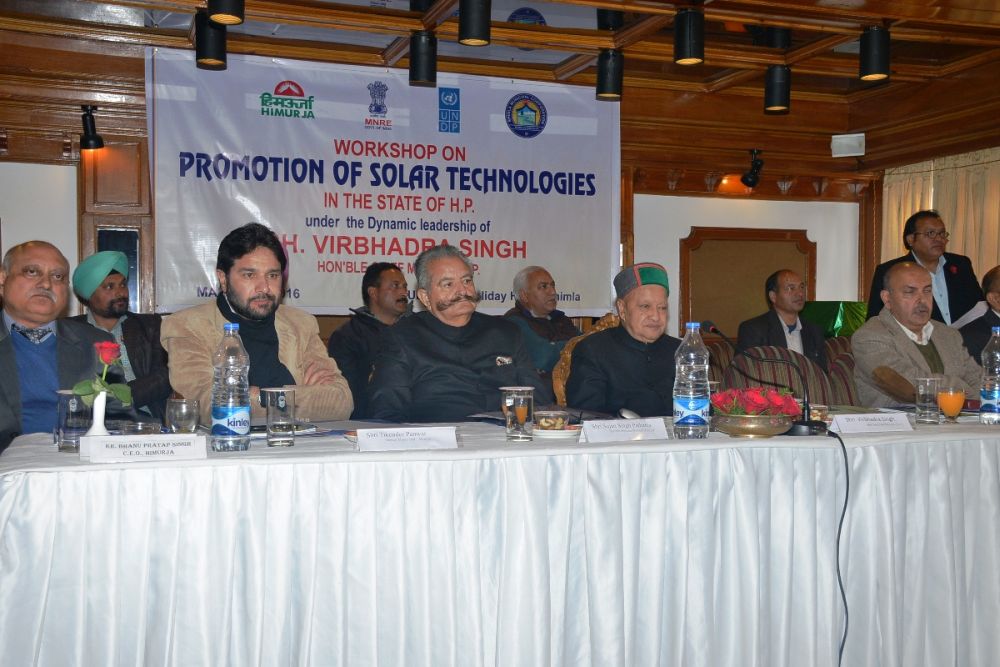 Shimla: Ministry of New and Renewable Energy has approved the master plan for development of Shimla and Hamirpur cities as Solar cities.
Himachal Chief Minister Virbhadra Singh, in a workshop on Promotion of Solar Technologies in Himachal Pradesh under Solar City programme organized by HIMURJA and MNRE, here today, revealed the Union Ministry has sanctioned 15 kWp Solar Power Plant at Panchayat Bhawan, Shimla and 20 kWp Solar Plants each at Ridge Shimla and at Old Bus Stand.
The Chief Minister said that Himachal Pradesh has potential of becoming a model State in terms of promotion and development of Solar Energy.
Virbhadra Singh said the growing need of energy and increasing environmental concern is a challenge to the mankind and advocated to tackle the energy crisis through judicious utilization of abundant renewable energy resources, such as Biomass, Solar, Wind and Geothermal Energy.
The Chief Minister endorses the National Policy for promoting clean and environment friendly technologies for exploiting the available power potential. Time has come to adopt renewable sources of energy instead of polluting fossil fuels as such resources are in abundance in the country, he said, adding that State Government has been working for development of renewable energy resources.
Tarun Kapoor, Joint Secretary, MNRE, GoI while detailing about the use of conventional Energy resources said that at present the Solar projects of 5547 Megawatt had been currently installed and targeting to achieve 1,00,000 MW of solar power by 2022.