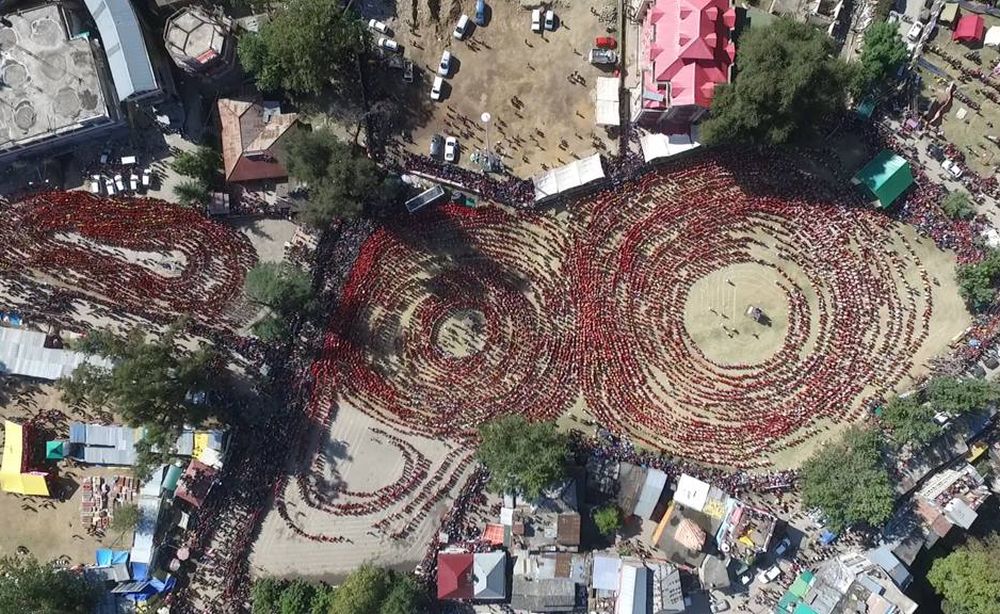 Kullu: A movement of pride for Himachal Pradesh, as a mega Kullu Nati, a group folk dance performed by 9,892 women in traditional attire, has find place in the Guinness World Records.
Kullu Deputy Commissioner Rakesh Kanwar avouched the development and confirmed of receiving approval from the Guinness World Record in the category of 'Largest Nati Dance'.
Aiming to spread the message of 'save girl child' the Kullu administration had organized the event phrased as 'Pride of Kullu' on October 26, 2015 at Dhalpur ground of Kullu town, where over 13,000 participants from all part of Kullu district participated.
However, due to strict stipulations and guidelines, including bar-coded chip for each participant, only 9,892 could be registered.
Chief Minister Virbhadra Singh congratulated the Kullu district administration for conducting a mega cultural event of Kullvi Natti during the latest international Dussehra Festival and said that it depicted the rich culture and high traditions of the State and after getting worldwide recognition this folk dance would further scale new heights.
The Chief Minister said that it was a matter of pride for the people of the State especially the people of Kullu district, that the local dance had made a world record. He congratulated the participants particularly the female folk dancers whose contribution made it possible to enter into the Guinness Book of world records. He said that he himself witnessed the event organized under the aegis of 'Beti Hai Anmol' which effectively spread mass awareness on saving the girl child.
He said that Himachal Pradesh was known for its rich culture and traditions and State Government was committed to promote and preserve it at all cost. He exhorted the people to maintain our distinct cultural traditions which were the real identity and heritage of the State.
Picture courtesy: Suresh Sharma