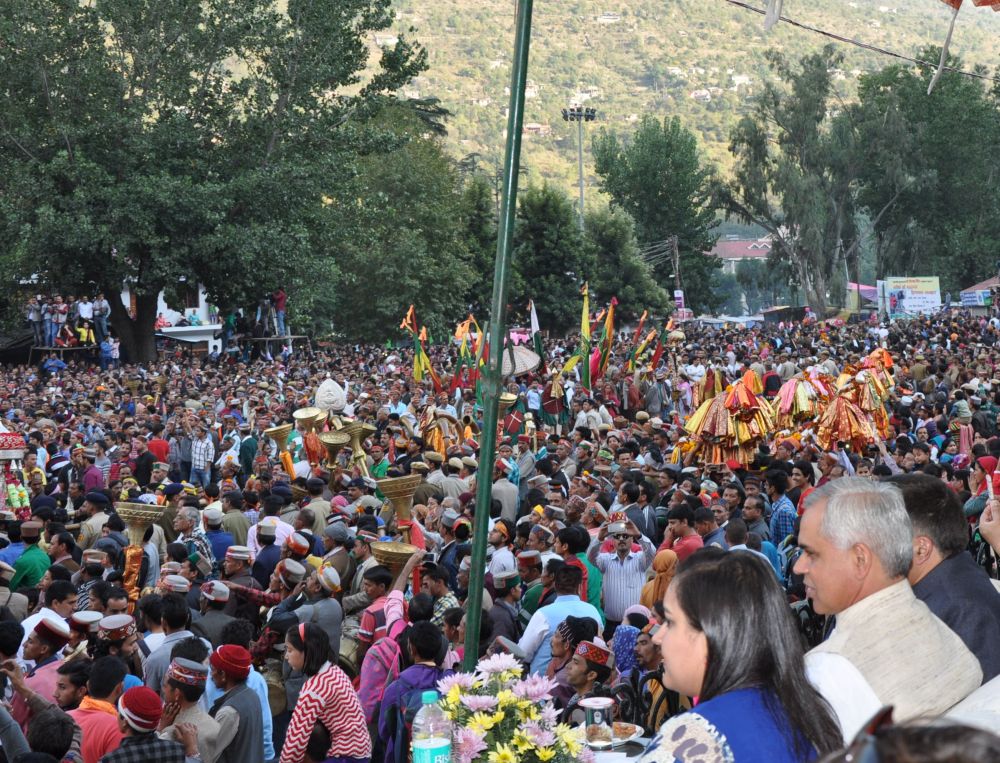 Kullu: The week-long international Kullu Dussehra Festival commenced with traditional fervour and enthusiasm at here today. About 200 deities from various parts of Kullu Valley are participating in the festival.
Governor Acharya Devvrat inaugurated the festival by participating in the Rath yatra of Lord Raghunath ji at Dhalpur ground in Kullu. He felicitated people of the valley on the auspicious occasion and termed the culture of the state was unique and had a distinct identity.
The Governor lauded the people of the state for preserving the rich culture and age old customs and traditions in the present times also and added that younger generation should be made aware of the same to instill pride in their hearts for the motherland.
Ayurveda Minister Karan Singh, MLA Maheshwar Singh, Member of Parliament Ram Swaroop, former Union Minister Satpal Maharaj, MLA and Vice-Chairman National Commission for Scheduled Tribe Ravi Thakur, MLA Govind Thakur, Deputy Commissioner Kullu Rakesh Kanwar and Superintendent Police Padam Chand were also present on the occasion.
This year, the Kullu administration is all set to enter Kullu Natti in the Guinness Book of World Record as it has planned to perform 12000 participants in the category of Traditional Folk Dance. The dance will be dedicated to the Girl Child. Beside Kullu Natti, administration has also included the dance form of other eleven district of the state. Which will definitely make it a platform to host vivid culture of the state.
Administration has also arranged to host performances from state like West Bengal, Assam, Madhya Pradesh, Gujarat, Bihar, Rajasthan, Chhattisgarh, Jharkhand, Goa, Uttrakhand, Maharashtra, Andhra Pradesh and Orissa. A special Mask Dance performance of Lamas of Kee Monastery, Spiti is also scheduled to be held at the occasion.