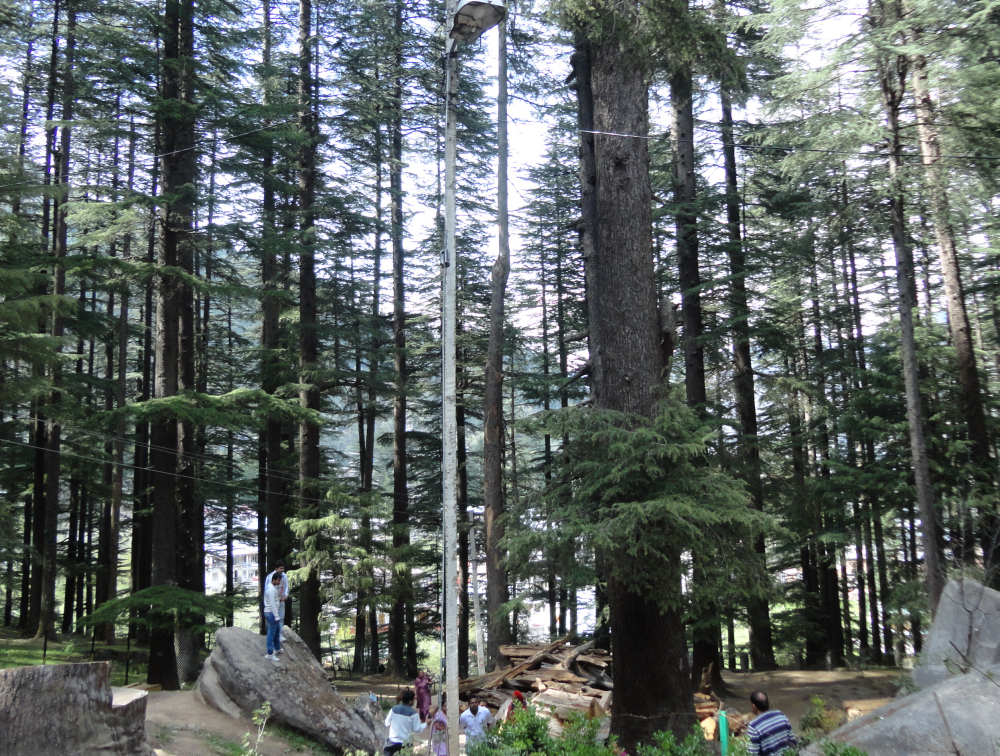 Forests of Himachal Pradesh are known for their grandeur and magnificence, but with the impact of modern civilization, it's fast depleting. With a view to minimize the impact of development on green cover, the state government has taken few initiatives for forest expansion in the state.
Out of total 55673 square kilometers geographic area in the state, the forest comprises 37033 square kilometers. According to Forest Survey of India report of 2013, the state had 14683 Sq kms area under green cover which was only 11780 Sq kms in the year 1991.
In view of further expansion of green cover, the state government has fixed the target of bringing 8712.45 hectares of additional area under forests by spending Rs. 45 crores under various schemes during current financial year. Plantation has been carried out on 29745 hectare of land during past two years. Saplings of broader leaves, wild fruit bearing and medicinal plants is being given special care while plantation so that besides adequate fodder, the rural people could get self employment avenues from the fruits bearing and herbal medicinal plants.
The state government has formulated a strategy during the current fiscal for the plantation of various species along side the roads constructed under Pradhan Mantri Gram Sadak Yojna under which one lakh saplings of shahtoot (mulberry), jamun (Jambolan), saru (Cypress), shisham, spheda (Ceruse), piple, deodar and neem are being planted through the MGNREGS workers. In addition to this, 45 lakh medicinal plants would also be planted during the same period whereas 90 lakh such saplings were planted during last two years.
Van sarovars (ponds) have immense importance in maintaining the land humidity besides helpful in dousing forest fires. In view of their significance, as many as 100 such sarovars are being constructed during this fiscal whereas 405 sarovars have already been constructed in various parts of the state.
For effective implementation of plantation drive, 725 nurseries have been developed in the state besides making 71 defunct nurseries operational to meet out the demand of green cover campaign. A variety of 2.49 crores healthy plants including fruit bearing, broader leaves and medicinal plants developed in these nurseries are ready to be planted during ensuing rainy season. The maintenance in plantation areas has been enhanced from three to five years and seven years under CAT plan so as to increase plant's survival percentage.
Lentana and other hazardous weeds are alarmingly spreading in various parts of the State due to uncertain change in climate and vanishing of the meadows thereby posing big threat to agro-horti activities. In order to provide relief to the farmers, state government has set a target to make 12480 hectare of land lantana free this year with a budget provision of Rs.19.29 crore whereas 15000 hectare such land has already been made lantana free during last two years by spending Rs.21.48 crore.
The foreign aided forest projects are effectively being implemented in the state so as to give momentum to the expansion in green cover. State government is making all out efforts to cover maximum areas under these projects. The World Bank aided Mid Himalayan Watershed Development Project's amount has been enhanced from Rs. 365 crore to 630.76 crores and the term period has also been extended unto 31st March, 2016. The Mid Himalayan Watershed Development Project is being implemented in 710 panchayats of the state after bringing 102 new panchayats under the same. Rs. 60 crore is being spent during current fiscal in these panchayats.
"H.P. Forest Eco-System Climate Proofing," a German Development Bank project of Rs. 310 crore has recently been started in Kangra and Chamba districts. MoU has already been signed for two million Yuro grant under this German aided project and the amount would be utilized on forest officials training programmes and development of local communities. Similarly, the state government has prepared and submitted a project namely "H.P. Forest Eco-system Management & Livelihood Project" to Japanese International Cooperation Agency (JICA) for obtaining the financial aid. This project of Rs. 1507 crore would be implemented in ten districts of the state.