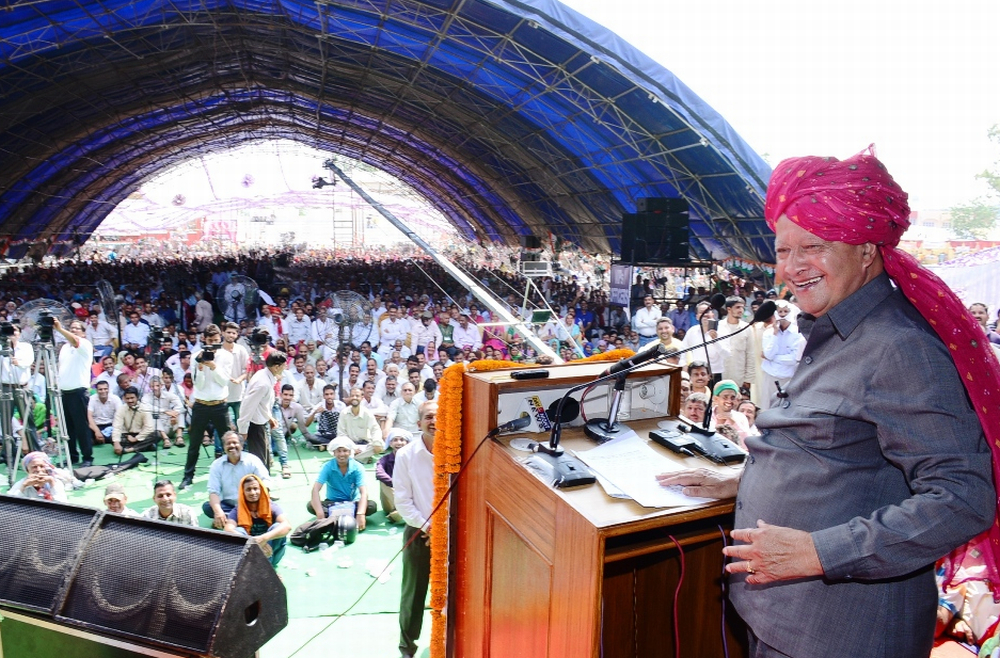 Una: Completing two and a half year in office, Virbhadra Singh government today organised a mega rally at Indira Gandhi Stadium of Una, today.
Virbhadra Singh, while addressing the rally, counted his government achievements, and claimed for bringing governance at the doorstep of common people.
The Chief Minister, taking a jibe at the NDA government, said that the tall promises that were made by the NDA had fallen flat on face. Their claims about bringing back the black money had failed and the NDA was at back-foot in fulfilling the promises made to the people as it had cheated the people as far as providing subsidy in various schemes under PDS was concerned.
He said that one should only make promises which could be fulfilled and not play with the sentiments of the people for merely seeking political mandate. He termed BJP leaders opportunists and also accused them for indulging in mudslinging.
AICC General Secretary, Ambika Soni, who is also in-charge of party state affair, raised question over the Modi Government and sought clarification on Union Human Resource and Education Minister Samriti Irani for allegedly submitting wrong educational qualification in her educational affidavits. She also accused Rajasthan Chief Minister Vasundra Raje for shielding Lalit Modi on the corruption case and asked her to resign from the post.
Declaring NDA government as anti- farmer, Soni said that UPA strictly opposing the introduction of Land Acquisition bill and vowed to fight against it throughout length and breadth of the country. She said that the congress had launched zameen-waapsi website to reach the people and to ensure redressal mechanism.
The Chief Minister also released a book showcasing development activities on completion of two and a half years of the government, a special edition of Giriraj weekly and a documentary, all published prepared by department of Information and Public Relations.
Earlier, Chief Minister Virbhadra Singh, Ambika Soni along with other party leaders reached the rally venue in an open Jeep, where party workers, supporters, and cultural troupes from all over the State, welcomed them with the tune and flavor of Pahari culture.
Speaker Vidhan Sabha Brij Bihari Lal Butail, Cabinet Ministers, Secretary AICC Raja Ram Pal Congress state president Sukhvinder Singh were also present at the rally.