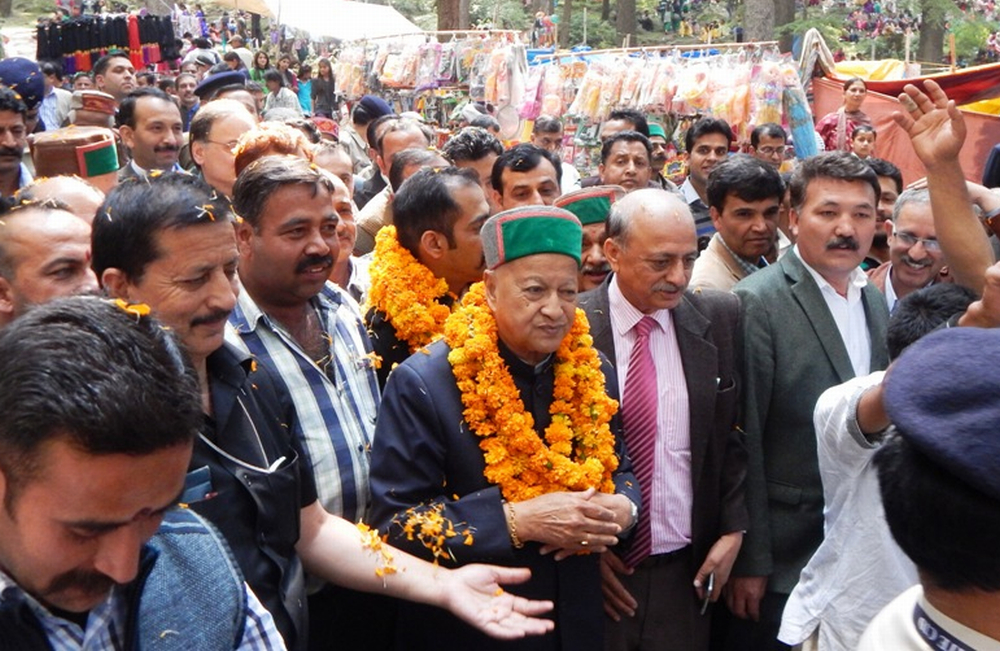 Bhutti/Kullu: Chief Minister Virbhadra Singh said government was giving added priority to construct roads and open educational and health institutions in the most interior areas like Dodra-Kwar, Kashapath. Pangi, Bara Bhangal etc. to ensure speedy development of these areas at par with other areas of the State.
Chief Minister, in a public meeting at Bhutti in remote Lag valley of Kullu district on late Friday evening, said efforts were afoot for speeding up construction of Bhubu Jot tunnel which would shorten distances by several kilometers and also help to keep the movement of vehicular traffic open throughout the year.
The Chief Minister announced to open new government primary schools at Dupkan in gram panchayat Majahat and Kharka in Bhalyani panchayat. He also announced up-gradation of government primary school Summa to middle school, government middle schools Fhallan Chara Kothi, Bhumteer and Karingcha to high schools and government high schools Bagan and Dughilag to senior secondary schools.
He assured to provide funds for construction of road from village Tandari to Dupkan. He directed the Public Works Department for preparing detailed project report (DPR) for Dupkan to Phallan, Jindi, Challah-Kadingchala-Smallang-Tiun and Satrim to Jathani roads.
The Chief Minister also directed the department for conducting survey for construction of Naghujhot power house to Grmang-II, Baggan-Bedhar-Lahi, circular road Dodra power house to lower Gadaria, Rujag-Badi Neri-Chhoti Neri, Darka power house Dughilag and Fagad nalla to Saldhari roads. He directed for maintenance and repair of over half a dozen roads damaged due to heavy rains of the area.
On the demand of the local people, The Chief Minister assured to take up the matter with the transport department for starting bus services between Kullu-Dughilag-Khanipand, Kullu-Mashan-Thach and Kullu-Barehiragran-Bhumteer.
He also announced Ayurvedic dispensary at Duplan and construction of community halls at Shallang village of Dukhrighar panchayat and Dupkan village of Majhat panchayat.
MLA, Banjar, Karan Singh, Chairman, Wool Federation, Raghuvir Thakur, Deputy Commissioner, Kullu Rakesh Kanwar, Director Higher Education, Dinkar Burathoki, State Youth Congress President Vikramaditya Singh, along with party workers were present at the occasion.
Note: Picture used in this article is taken at Seepur Fair in Shimla District, and used in this article for representation purpose only.