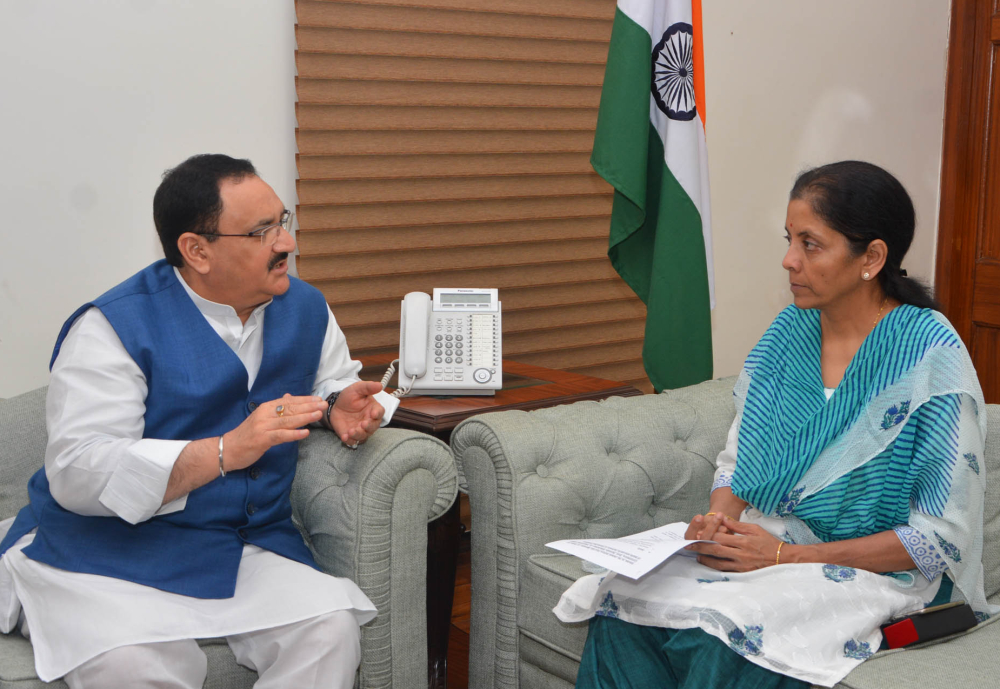 New Delhi: To give much needed relief for apple growers, Union Health and Family Welfare Minister J.P Nadda called on Union Minister of State for Commerce Nirmala Sitaraman today and requested her to include apple in 'Special Products' category and increase tariff on imported apple within the framework of World Trade Organisation rules from other countries.
J.P Nadda apprised Union Minister of State for Commerce that apple growers of Himachal, Uttrakhand and Jammu & Kashmir were facing onslaught of Chinese apples due to low import duties, and were adversely affecting the apple growers and economy of hill states.
Nadda further informed Nirmala Sitaraman that state agriculturists and fruit growers have been adversely affected due to dumping of Chinese garlic through Nepal and Bangladesh in India at zero duty as well as illegal smuggling of Chinese garlic which has affected local producers of garlic in Himachal Pradesh. He coined for taking effective steps with Ministry of Home Affairs to check illegal garlic smuggling from Bangladesh and Nepal.
Union Minister said that apple contribute to state economy comes around Rs 2500 crore annually, which is around 6 percent of the state GDP, and a main source of income of almost half of rural population across six hill districts of the state.
He said that Himachal Pradesh is one of the major producers of this best quality garlic in country and added that illegal import of garlic from neighboring country mainly China has adversely affected the economic interests of hill garlic growers which is depriving them of attractive competitive rates in the markets.
Nadda said that according to reports there is a complete ban on import of garlic from China. However, the neighboring countries like Bangladesh and Nepal have been importing Chinese garlic and it is getting re-exporting it to India through porous borders illegally.
Union Minister of State for Commerce Nirmala Sitaraman appreciated the issues raised and assured to take all possible measures to safeguard the interests of fruit growers.
Former Horticulture Minister Narinder Bragta thanked Union Minister for raising the concern of apple growers. In his press statement, Bragta hoped for getting nod to get apple in 'Special Products' category from union Government.
Earlier, veteran politician Shanta Kumar, former CM Prem Kumar Dhumal and MPs from Himachal Pradesh Anurag Thakur, Ramswaroop Sharma and Virender Kashyap had raised the issue with Union Finance Minister and sought his intervention to save apple growers of the state.