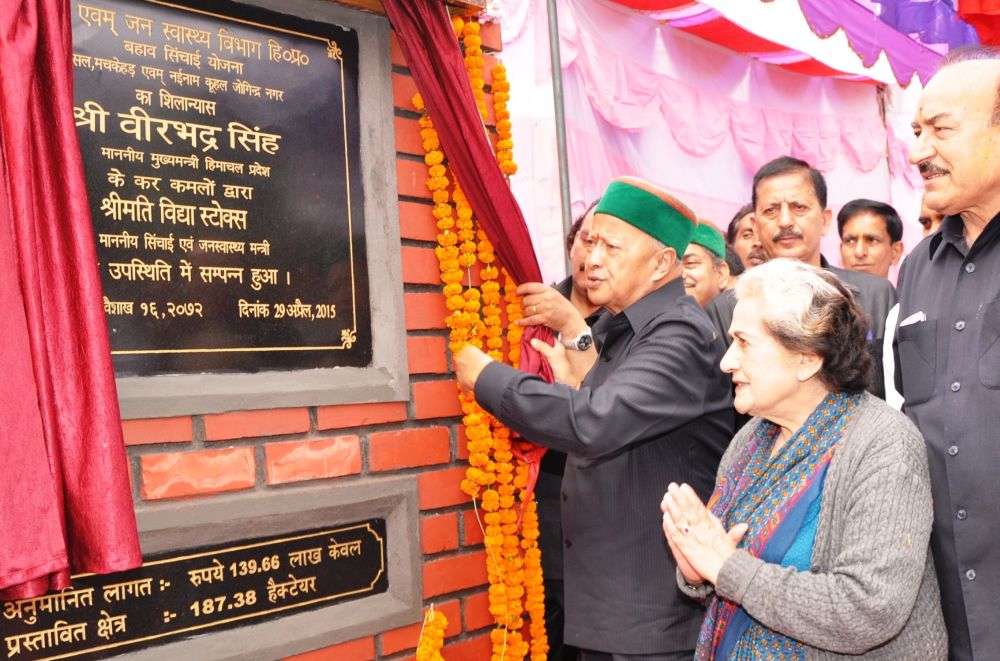 Jogindernagar: Chief Minister Virbhadra Singh today announced free wi-fi facility for Jogindernagar town in Mandi district along-with installing CCTV cameras. He said Jogindernagar will be the first township of the State to have these facilities which would not only help in tracking anti-social elements but also in ensuring cleanliness of the town.
The Chief Minister, while addressing a public meeting at Jogindernagar, said that this was first of its kind initiative of the State government. He also announced to give status of Nagar Parishad to Jogindernagar Nagar Panchayat.
Earlier, he laid foundation stones of flow irrigation scheme, Passal, Machkehar and Nainam Kuhl costing Rs. 1.40 crore and auditorium of Government Degree College Jogindernagar which will cost Rs. 7.51 crore.
The Chief Minister inaugurated the office building of Superintending Engineer, PWD Circle completed at a cost of Rs. 1.45 crore, additional block of Jogindernagar hospital constructed at a cost of Rs. 1.50 crore and parking at old Mela ground which has been completed by spending Rs. 39 lakh. He also laid foundation stones of lift irrigation schemes, Bella, Sakmad and Alga Petu to be constructed at an outlay of Rs. 94 lakh and lift irrigation schemes Chalarg and Chamb kuhl to be constructed at a cost of Rs. 94.40 lakh.
Virbhadra Singh announced multilevel parking for Jogindernagar and directed the Deputy Commissioner to find suitable land for the ex-servicemen as soon as possible so that they could use it for construction of hospital, canteen and guest house. He announced to upgrade government high schools Ropri and Drahal to government senior secondary schools and also to construct science block for girl school, Jogindernagar by spending Rs.95 lakh.
Irrigation and Public Health Minister Vidya Stokes said on the occasion that Himachal was a prosperous State where only eight percent people were living below poverty line. She said every village had been provided drinking water and electricity facility and the credit for which goes to the successive Congress Governments.
Health Minister Kaul Singh Thakur said that in its commitment to provide best and affordable health care services to the people of the State, Government was endeavouring to strengthen the health network.