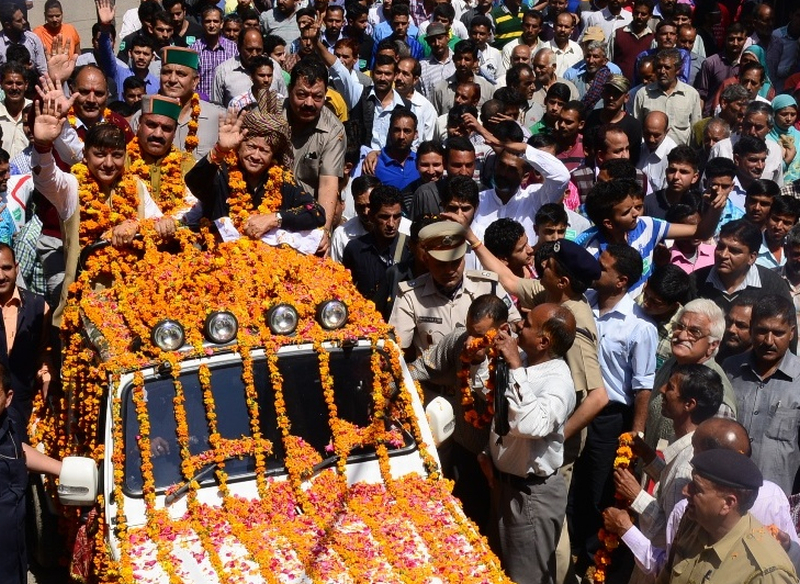 Hamirpur: Chief Minister Virbhadra Singh on his visit to Hamirpur today dedicated additional multi complex of Circuit house completed at a cost of Rs 3.20 crore. He also inaugurated the office of Chief Engineer, PWD constructed at a cost of Rs 3.41 crore besides inaugurating three storey complex of Ayurveda Hospital completed at a cost of Rs 3.92 crore. He also dedicated Rest House (Bohni) at Cheori, constructed with an outlay of Rs. 1.08 crore.
The Chief Minister also laid foundation stone of the additional block (science lab) of government girls middle school to cost rupees 1.31 crore and Panchayat Bhawan at Salasi to cost rupees 2.40 crore and that of a bridge over Ghori Nallah on Link Road to village Bahal in gram Panchayat Jhaniara to be constructed at a cost of Rs 55.30 lakh.
Later in the evening, he attended cultural function of Sarvkalyankari Organisation at Baru.
The Chief Minister was also accompanied by CPS Inder Dutt Lakhanpal, Vice Chairman HP state Disaster Management Board, Rajinder Rana, Chairman, Kangra Central Co-operative Bank, Jagdish Saphayia and others along with hundreds of supporters.