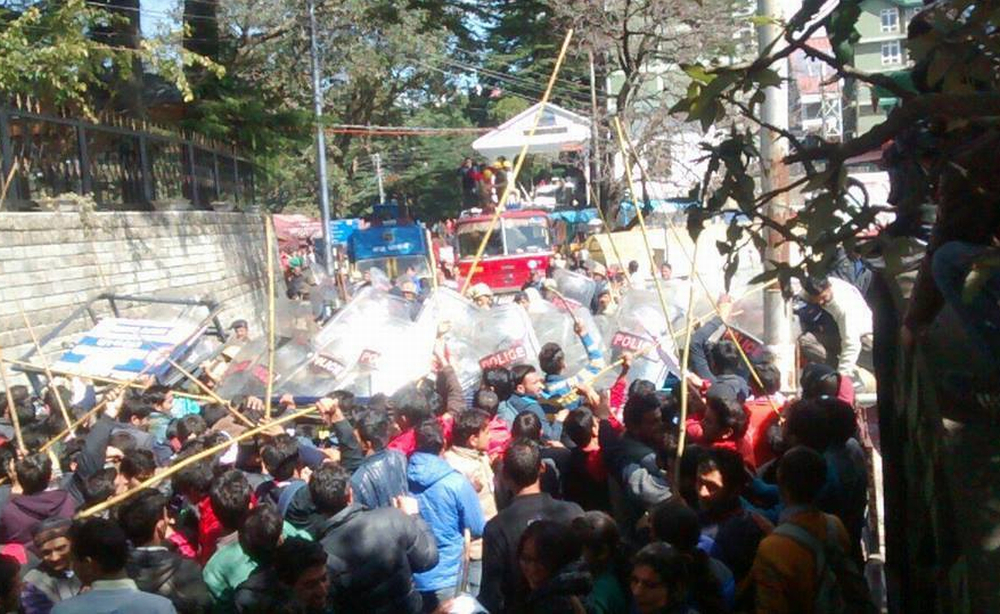 Breaking silence on the police's Lathi-charge and arrest of SFI volunteers outside the Vidhan Sabha, Chief Minister Virbhadra Singh has accused SFI volunteers for the clash.
Responding to the attention motion brought by the Suresh Bhardwaj, CM informed the house that a delegation of SFI volunteers, prior to the clash, met him at Vidhan Sabha and gave details of their demands in positive manners.
He said that SFI workers were carrying bag and sticks, which were removed by the security staff before entering the Vidhan Sabha, but while returning they picked their stuffs and near railway board building, SFI volunteers started pelting stone on the police personnel and after police retaliation; they run and entered the CPM office, which is nearby to the spot.
To capture culprits, the police also entered the office and arrested the three persons, CM clarified.
Chief Minister also accepted the jibe of leader of opposition that the Congress Party has cordial relations with the CPM, but made clear that anybody who commits crime won't be spare and dealt strictly.
Meanwhile, the state CPM, in a bid to pressurize the state government, submitted a memorandum to Governor Kalyan Singh and Director General of Police and demanded a judicial inquiry into the incident.
In its memorandum CPM claimed that the state police had mercilessly beaten up and chased protesting students and even forcefully entered party office by breaking the front door and took away office staff and even beaten them up in police custody at Boileauganj police station.
CPM categorically opposed to a magisterial probe as they fear of same fate as in the case of an attack on the BJP Shimla office and pressed for a judicial enquiry.
CPM also demanded enquiry into police action against striking employees of Karchham-Wangtoo hydro power project.
In its memorandum, CPM also sought Governor's intervention into the reported police action against striking employees in JP owned Karchham-Wangtoo hydro power project in Kinnaur.
As per CPM claims, at Tapri last night i.e. 19th evening, the local police forcefully evicted more than 700 workers from their camps and forced them to stay outside in freezing cold.