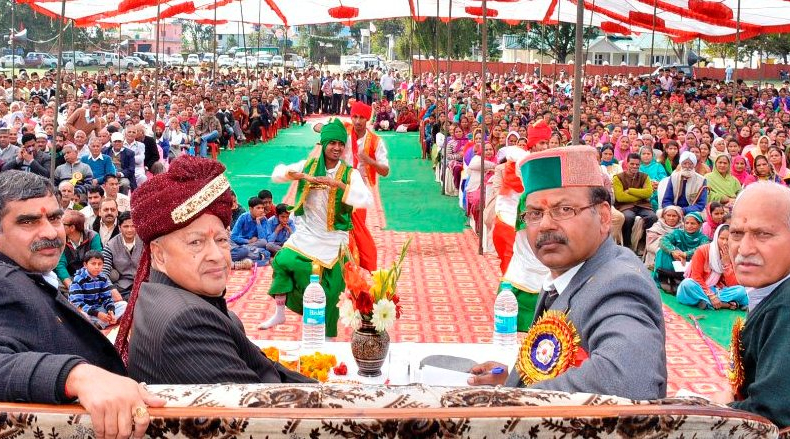 Chief Minister Virbhadra Singh laid foundation stones and inaugurates projects of around Rs.17.50 crore in Guler in Dehra assembly segment of Kangra district today.
While addressing a public meeting at historic Haripur Chaugan, he assured to properly fence the Haripur Chaugan with iron-cast railing on analogy of Chamba and Sujanpur Tihra Chowgans.
Haripur Guler was ancient heritage of our state and needs to be promoted along-with preserving the traditional architect and culture. He said that though the college was quite a distant from the town, it would have been constructed at some central place, CM added.
The Chief Minister earlier inaugurated Chander Dhar Guleri Government Degree College at Haripur Guler completed with an outlay of Rs. 10.14 crore. The Chief Minister also announced construction of science block for the college and starting of science classes therein. He also inaugurated Government Senior Secondary High School at Muhal completed with a cost of Rs. 1.45 crore and constructed by Bharat Sanchar Nigam Limited, inaugurated science block of Government senior secondary school Haripur completed at a cost of Rs 51 lakhs. He also laid foundation stone of Sub-tehsil (Revenue Bhawan) at Haripur and inaugurated Sub Tehsil at Haripur. He also laid foundation stone of office of executive engineer PWD to cost rupees 3.42 crore and laid foundation stone of Kala Manch building in Shaheed Bhuvnesh Dogra Stadium at Dehra to cost Rs 40 lakhs and laid foundation of CSD Canteen and Poly Clinic at Dehra to cost approximately one crore.
The Chief Minister announced to upgrade Primary health Centre Haripur to CHC and up-gradation of Government High Schools (GHS) Bilaspur, Guler, Dhardhangar to Senior Secondary School and Middle Schools at Mewa, Naushehra to High Schools besides upgradation of Primary School Chabbar to Middle School. He also announced introduction of science stream in GSS Badhal thore, Paisa and Sakri besides starting commerce stream in GSSS Muhal Senior Secondary School.
He also announced for motorable road to Bassa- Lunsu besides construction of Jeepable track from Dhangar Dhiun-Chang Basti Gotha and Khabli Duman Chawk to Naun road. He also announced construction of Toteyan da Behra to Gatli da Gharat and Gungala-Maroli-Parol road and announced construction of road track from Sakri Gharan Bast to Sarahara Basti Guga Mandir- Chatra and asked the PWD to take over them. He also asked the PWD to construct/maintain Hospital road at Haripur.
Earlier, Chief Minister was accorded warm welcome at Haripur Guler. Congress leader Brig Rajinder Rana, welcomed and honoured the Chief Minister and also placed demands of the area before him.
Chairman, Other Backward Classes Finance and Development Corporation Chander Kumar, Chairman, Kangra Central Co-operative Bank Jagdish Sapehiya, Vice-Chairman, Freedom Fighters Welfare Board, Susheel Rattan, Vice- Chairman, HP State Forest Corporation, Kewal Singh Pathania, MLA Sanjay Rattan accompanied Chief Minister.