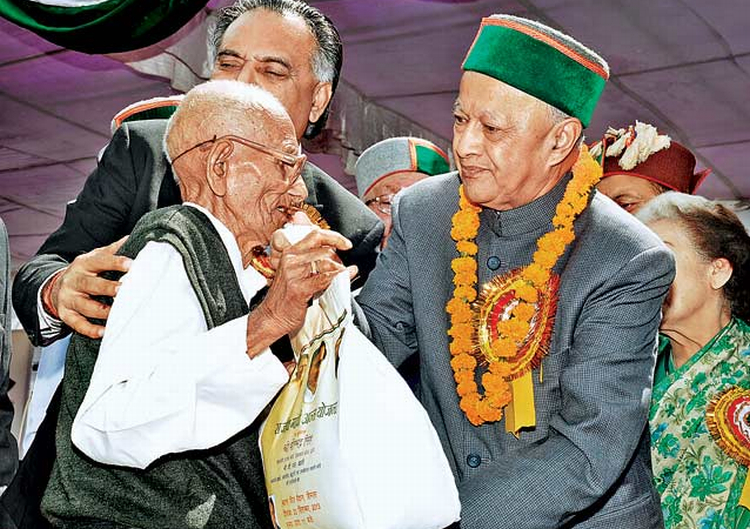 Public Distribution System is being implemented effectively in Himachal Pradesh through 4794 Fair Price Shops spread all over the State. Subsidized ration is being provided to each person through 17,41,789 ration cards in the state on monthly basis. The State Government is providing annual subsidy of about Rs. 220 crore for providing subsidized ration to APL families. 3,01,131 below poverty line families and 1,95,381 poor families are being benefitted under the Antyodaya Anna Yojana.
Rajiv Gandhi Anna Yojna is being implemented in the State under National Food Security Act since Ist August, 2013. The list of beneficiaries of Antyodaya Anna Yojana updated on April 7, 2013 in Gram Sabha meetings in the State, were automatically considered covered under this scheme. In addition, all families living below the poverty line, families being benefited under Annpurana Antyodaya scheme and all families getting social security pensions have been included under the scheme. Besides this, those Tibetian who are beneficiaries of Annapurna scheme and for whom permits have been issued after proper investigation under public distribution system, are included under this scheme.
Those families whose any member is serving in government sector, corporation, board, or serving regular or on contract basis in the bank, would automatically be excluded from the list of beneficiaries of Annpurana Antyodaya Scheme. The income tax payee families, pensioners, registered contractor would also be excluded from this scheme.
Under Antyodya Ann Yojna a target has been set to select 1,97,100 poor families in the State. There are 9,50,696 members of Antyodaya families in the state. Under the scheme, 35 Kg food grain, which includes 20 kg wheat at the rate of Rs 2 per kg and 15 kg at the rate of three rupees per Kg is being provided to each Antyodaya families per month.
Antyodaya families, BPL and other primary households have been covered under National Food Security Act, 2013. Under this scheme, 6395 MT pulses and 9101 MT wheat has been allotted to the state by the Central Government from October 2013. Under the scheme, Rs 17 crore has been allocated from year 2012-13 to till date.
Under the Annapurna scheme all those senior citizens about 65 years, who are not getting any pension are being provided 10 Kg rice free of cost per month. Under this scheme, the rice allotted by Food Ministry, Government of India is being provided to eligible beneficiaries by the State Food and Supplies department through its fair price shops.
Food grains allocated under this scheme are being purchased by the State Government at the rate of Rs. 565 per quintal and the fair value from FCI godowns to the fair price shops and other expenses are also being borne by the State Government.
Government of India has set a target of benefitting 6,373 beneficiaries from the State under this scheme. Currently 2,063 beneficiaries in the state are being benefited under this scheme as most of the eligible senior citizens are getting old-age pension is the State.
The Food grain worth of Rs. 9.82 lakh have been distributed to the eligible people under Annapurna Scheme from 2012-13 to September 2014 in the State.