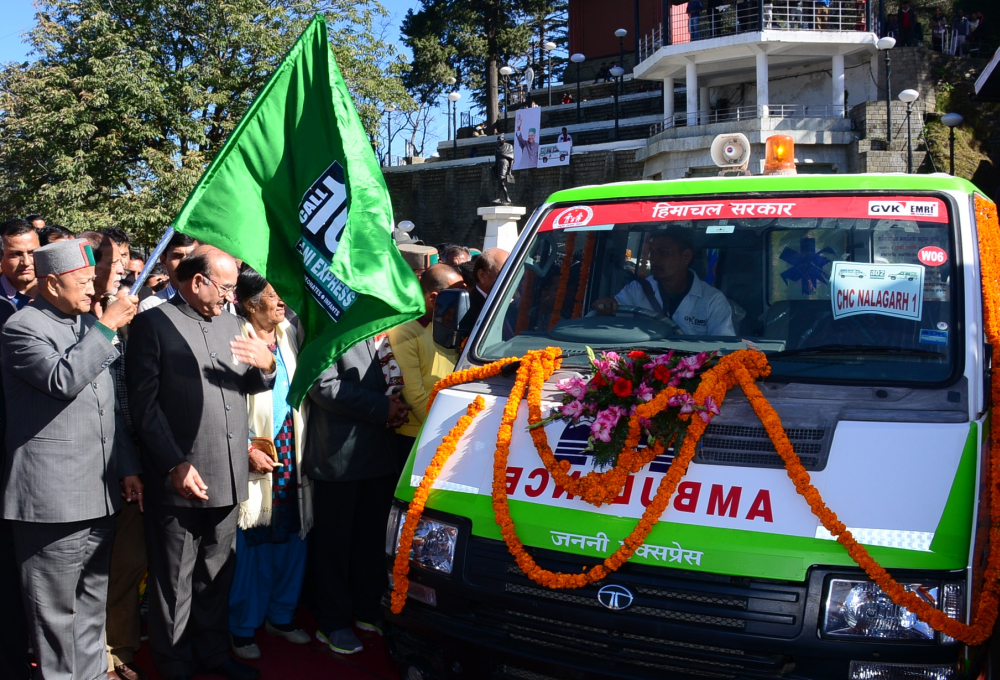 Himachal Pradesh health department officially started 102 Ambulance Services under Mother Child Safety Programme (Janani Sishu Suraksha Karyakram).
Chief Minister Virbhadra Singh flagged off 45 Ambulances under the 102 Ambulance Services from historic Ridge here today.
These Ambulances would provide free transport/drop back facility to the pregnant women, women after delivery and sick children up to the age of one year in the State, which includes the remotest Dodra-Kwar and other far-flung areas.
The Chief Minister said that under this Scheme 125 ambulances would be stationed at major delivery health centres including the regional and district hospitals. As of today, the infant mortality rate of the State was 36 as compared to the National average of 42 and similarly the fertility rate in the State is 1.7 as compared to 2.4 at National level.
He said that this free service would promote institutional deliveries which in turn will be go a long way in further reducing the Maternal and Infant Mortality rate in the State.
The Chief Minister said that health indicators of the State were far better from the National health indicators as per the latest survey.
The Chief Minister said that under National Rural Health Mission the State Government was successful in getting the finances of Rs. 261 crore from the Centre and he hoped that the Union Government would provide assistance to further strengthen the Health Sector as the Union Minister of Health J. P. Nadda represents the State.
Health Minister Kaul Singh Thakur revealed that a sum of Rs. 6.15 crore was being spent under 102 Janani Sishu Suraksha Karyakram in the State. He said that this free 102 Ambulance drop back services would reduce the pressure on 108 Ambulance services which were also performing the same services.
Earlier, Hans Raj Sharma, Mission Director, NRHM welcomed the Chief Minister and other distinguished persons on the occasion.
Thakur Singh Bharmouri, Forest Minister, Chet Ram, Chairman, Milk Federation, Vineet Chaudhary, Additional Chief Secretary, Nandita Gupta, Special Secretary, Health Services, R.K. Sharma, Director, Health Services, Dinesh Malhotra, Deputy Commissioner, other senior officers of State Government and prominent persons of the town were also present on the occasion.