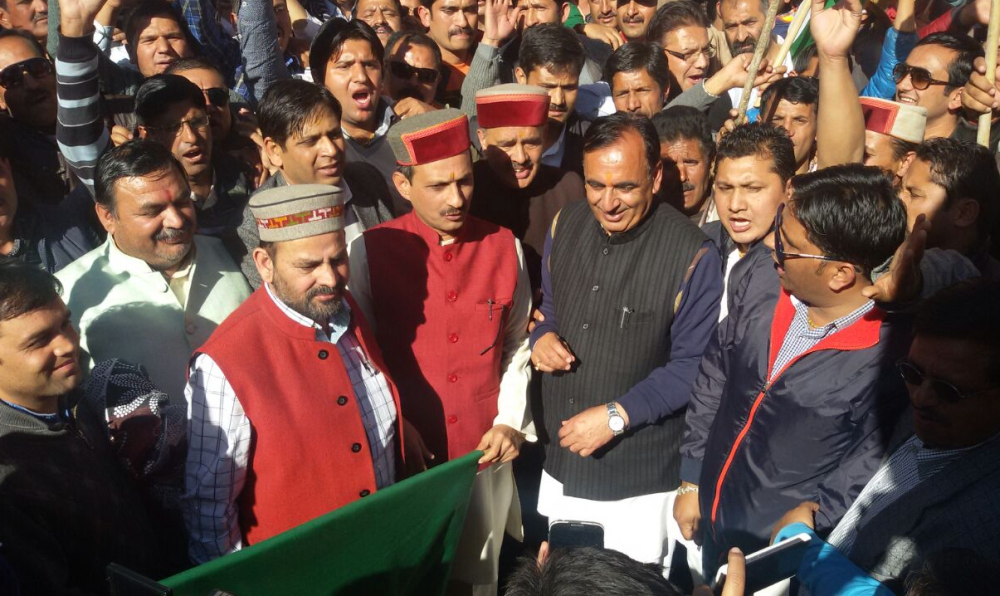 Aiming to put pressure on the state government over the Theog-Kotkhai-Hathkoti-Rohru road, Himachal Pradesh BJP week long road protest march started today from Rohru in Shimla district. BJP state president Satpal Satti formally started the protest march, in which hundreds of party workers and leaders of Shimla district participated.
Narinder Bragta, who is spearheading the agitation, accused Congress led state government for the degrading condition of the road. He asserted that the Congress in 2007 awarded tender without getting necessary clearance from the concerned department and acquiring private land.
Bragta further added that the condition of the Theog-Rohru road is deteriorating and Construction Company, which was entrusted with the widening work, is progressing very slowly thus putting question mark on its intention.
Former Horticulture Minister vowed to fierce his agitation for sake of common people and also declared to take matter to the court.
BJP state president Satpal Satti stated that the Chief Minister is busy in his corruption cases and have no time for the state.
However, the state government is claiming to complete the road project within stipulated time i.e. mid 2016. Congress leaders were accusing BJP for the delay in project completion and blaming BJP for giving political angle to gain politically in Jubbal-Kotkhai assembly constituency.