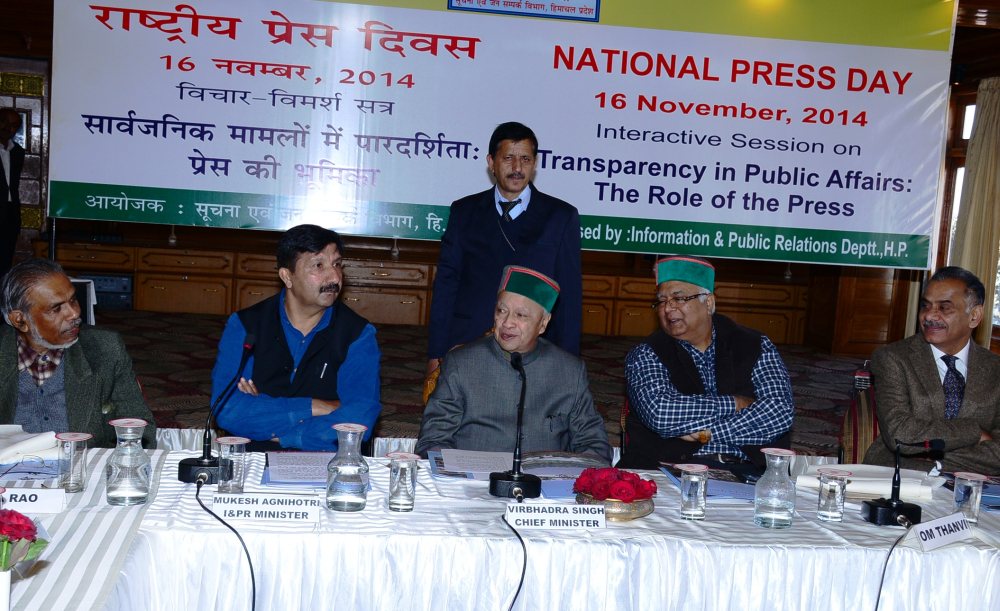 Shimla: The Information and Public Relations Department, Government of Himachal Pradesh, organised the National Press Day function here today. The Chief Minister Virbhadra Singh presided over the function, which was based on the theme 'Transparency in Public Affairs: The Role of Press'.
The Chief Minister, in his address, lauded the role of press for highlighting the social issues and grievances of the common man besides giving feedback on the policies and programmes of the government.
He asserted that the state government had always considered media in high esteem and it was committed to provide all assistance to the media persons.
The Chief minister expressed happiness that the media in the State was flourishing fast but along-with there should be self imposed restriction to avoid writing any such thing which effects the unity and integrity amongst the people because the basic motto should be to report such things that may not have an effect on the relations. He said that ethical journalism and healthy reporting was always welcomed for the people of any Country.
He expressed hope that the deliberations reached upon would go a long way in strengthening the media and to adopting the strategies for common cause and serving the last man in the row.
Mukesh Agnihotri, Industries and Information and Public Relations Minister, while welcoming the Chief Minister, said that media had an important role to play in bridging the gap between the people and the government. He said state government had always maintained cordial relations with the media persons and all their genuine demands were being considered by the government on priority.
Om Thanvi, Executive Editor, Jansatta, said that the nation was passing through a crucial stage and corruption and communalism were two major challenges which were only talked about but nothing concrete had been done on the ground to root out corruption and give justice to the minorities.
Earlier, Vepa Rao, a senior journalist, said that the National Press Day was an occasion for media persons to introspect and ponder to make future strategies in the larger interest of the media. He said media was a great social weapon which should be used for betterment and highlighting the issues which were casting eyebrows on the system. He said the there was a very thin line between right to privacy and domain of public affairs and the media needed to differentiate between the two without indulging in right to privacy of an individual.
An interactive session was also held on the occasion in which journalists and the students of journalism and mass communication participated and gave their valuable suggestions on various issues pertaining to role of media and its challenges.
Rakesh Sharma, Director, Information & Public Relations proposed vote of thanks.