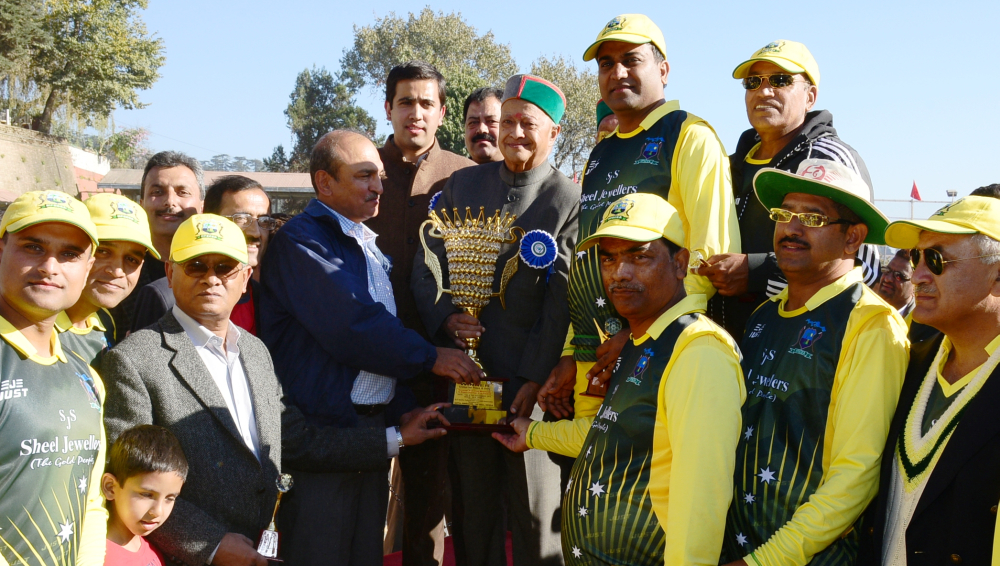 Governor XI wins T-20 Cricket Tournament by 25 runs by defeating Chariman's Board XI in a one sided match. Tournament was organised by the Himachal Pradesh Sports, Culture and Environment Association at Bishop Cotton School Shimla.
Governor XI won toss and decided to bat first. Openers make good use of lifeless pitch and directionless bowling of Chariman's Board XI. Opener Amandeep Garg made fantastic century supported well by Ritesh Chauhan and successfully posed a daunting target of 254 in twenty over.
In response Chariman's Board XI openers started cautiously and maintained their run rate over 10 run per over. However, Governor XI managed to tighten their grip on the match with accurate line and length from Ramesh Chhajta and Amarjeet Singh.
Vivek Sharma made fighting half century, whereas Captain Subhash Manglate and Kewal Singh Pathania managed to lessen score difference. In the twenty over Chariman's Board XI could manage to score 228 runs for nine wickets.
Amandeep Garg was adjudged Man of the series for scoring highest runs and remaining not out in the entire series.
Chief Minister Virbhadra Singh distributed the prizes. The Chief Minister, while speaking at the closing ceremony, stated that the sports promote unity and should be played in true spirit irrespective of politics and ideology.
He appreciated the efforts of the Association for promoting sports and culture of the State.
Earlier, Vikramaditya Singh, President H.P. Sports Culture and Environment Association, detailed about the tournament and said that many new teams had shown their interest to be part of the tournament next year. Besides, a team of judges of Himachal High Court had also expressed the willingness to participate in the tournament.
He conveyed special thanks to Robin Christopher, the Head Master of Bishop Cotton School for facilitating the tournament.
Sudhir Sharma, Urban Development Minister and Pankaj Rakta, journalist, were given special prizes for scoring centuries.
The tournament was organsied to spread a social message of peace and unity besides AIDS awareness.
Earlier yesterday Governor Urmila Singh inaugurated the Tournament. Four teams Governo'r XI, Chief Minister's XI, Board Chairmen XI and Press XI participated in the tournament.
Brij Bihal Lal Butail, Speaker, H.P Vidhan Sabha, Mukesh Agnihotri, Industries Minister, I.D Lakhan Pal and Vinay Kumar, Chief Parliamentary Secretaries, Kuldeep Singh Pathania, Chairman, State Pollution Control Board, Harsh Mahajan, Chairman, State Cooperative Bank, Yashwant Chhajta, Vice Chairman, HIMUDA, Sanjay Rattan, Bamber Thakur, Karnesh Jung, Pawan Kajal, Ram Kumar, Mohal Lal Brkata, MLA's, P. Mitra, Chief Secretary, V.C Pharka, Additional Chief Secretary, Sanjay Kumar, Director General of Police, Subhash Ahluwalia, Principal Private Secretary to the Chief Minister and senior officers of the state government and the media persons were present on the occasion.