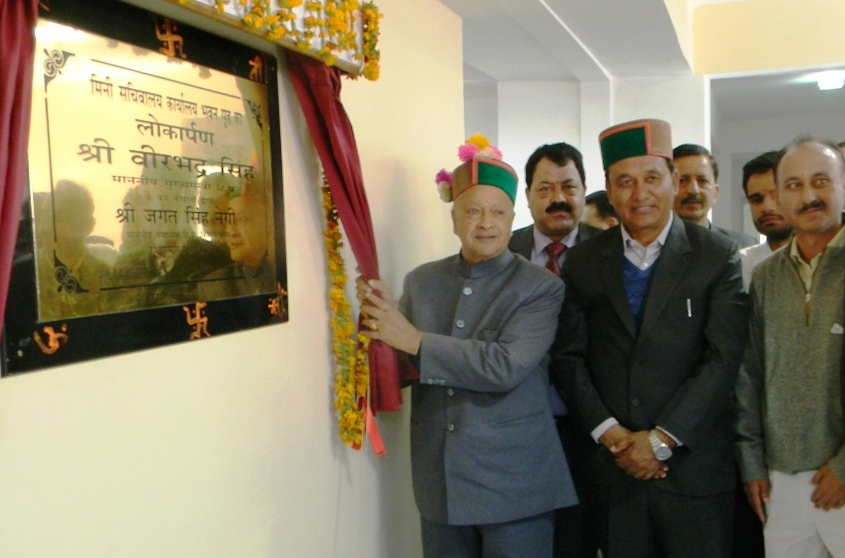 Himachal Chief Minister Virbhadra Singh inaugurated the newly constructed Mini Secretariat building constructed at a cost of Rs. 2.35 crore at Pooh in Kinnaur district.
Chief Minister, while addressing the gathering said that new building would provide multifarious facilities under one roof to the people. He also promised to provide adequate parking facilities at Pooh and Kalpa at the earliest.
Chief Minister said that Kinnaur district witnessed heavy damage to roads and houses due to heavy rain falls in June last year and the State Government had initiated effective steps and adequate financial assistance was provided to the people of the area and the entire finances were met from the State exchequer.
He assured that the Government was serious about the Urni road blockade, which was a major bottleneck on the National Highway and soon a permanent solution pertaining to this would be found.
Virbhadra Singh lauded the efforts of the people for conserving the environment and said that wherever there was a possibility of lifting the water from the rivers it would be done to provide water for Irrigating the orchards, fields, for drinking and similar other purposes. He directed the forest department to plant more plants and if need be, can deploy the local people for watering them.
The Chief Minister also visited the War memorial of 36 Headquarter Infantry Brigade of Indian Army at Pooh later.
Earlier, Jagat Singh Negi, Deputy Speaker, H.P. Vidhan Sabha, welcomed and honoured the Chief Minister and said that the foundation stone of the Mini-Secretariat was also laid by Virbhadra Singh in 2006 and it was a memorable occasion today that it has been dedicated to the people of the Pooh today.
V.C.Pharka, Additional Chief Secretary, Tribal Development, D.D. Sharma, Deputy Commissioner, Kinnaur, Rahul Nath Superintendent of Police and other senior officers were present on the occasion amongst Pradhans and Up-pradhans of various panchayats.