In the inaugural ceremony of State level Agriculture Officers' Workshop on Rabi crops, Dr. K.K Katoch, Vice-Chancellor, CSK Himachal Pradesh Agriculture University exhorted the progressive farmers to become harbingers of change in their respective districts so that other farmers may emulate them to adopt scientific farming.
The Vice-Chancellor informed that the Agriculture University and State Agriculture Department to develop one model village in each constituency under ' Chief Minister Model village scheme'. Similarly, the Krishi Vigyan Kendras have been directed to adopt poly-houses in each development block in Himachal Pradesh. Young farmers will be trained to repair and maintain poly-houses. He also directed Krishi Vigyan Kendras to organize district level 'Kisan Mela' for the benefit of local farmers.
The Vice-Chancellor informed that there was immense possibility of crop diversification in remote and inaccessible areas in the State which have got road connectivity.
The small and marginal farmers should be encouraged to form cooperatives to judiciously utilize resources. He also discussed issues like soil conservation, fertigation based on soil testing, natural resource management and underlined the importance of farm mechanization in the hill state .He advised that when-ever any new food crop variety is developed; efforts should be made to get feedback about its quality from stake holders.
The Vice-Chancellor also assured that all efforts will be made to increase crop production in the State. He also welcomed some progressive farmers from different regions of the state and told that his university had taken lead in reserving front seat for farmers in all farmers' related functions as they were the ones who can inspire many other farmers to learn the intricacies of modern farming and deserve special respect.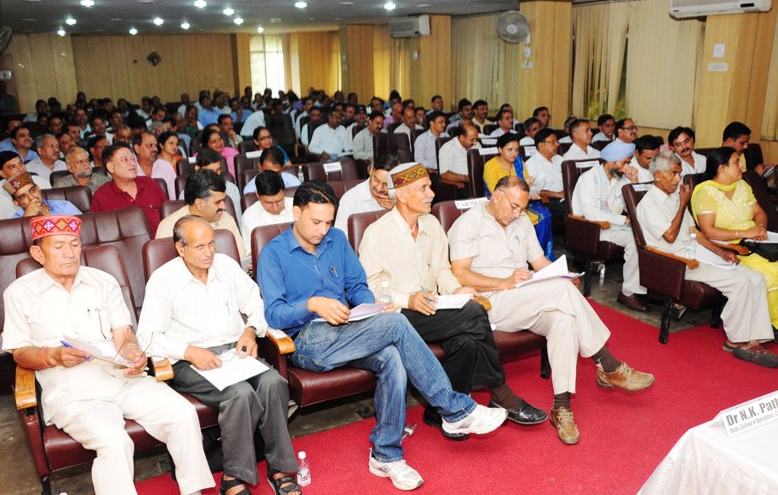 Director, Department of Agriculture, H.P, Dr. J.C Rana informed about the arrangements made for farm inputs for ensuing Rabi season. He said that conditions were ideal for timely sowing of early crop varieties and farmers should be encouraged to reap the benefits of adequate soil moisture. He told that crop production target of 16 lac metric ton has been fixed and 76 thousand quintal seed has been arranged. Under 'National Food Security Mission' Rs 12 crore will be spent for crop demonstrations. Under 'Rashtriya Krishi Vikas Yojna' projects worth Rs. 86 crore will be implemented.
Dr. S.P Sharma, Director of Research, elaborated about various research achievements and priorities of the University. He told about newly developed wheat variety HPW 368 (Palam Gehun 2) and Gobhi Sarson variety GSC7. He said that 136 research projects worth Rs. 5524 lakh were in operation in the University.
Dr. Atul, Director of Extension Education, told that modern technology has been introduced for information dissemination. Weather advisory services through SMS have been initiated in four districts of the State and only last week it has further been introduced at block level in Hamirpur district. Social media will also be extensively used for this purpose and all eight Krishi Vigyan Kendras have been asked to use it. Feedback mechanisms to improve training's' have also been introduced recently.