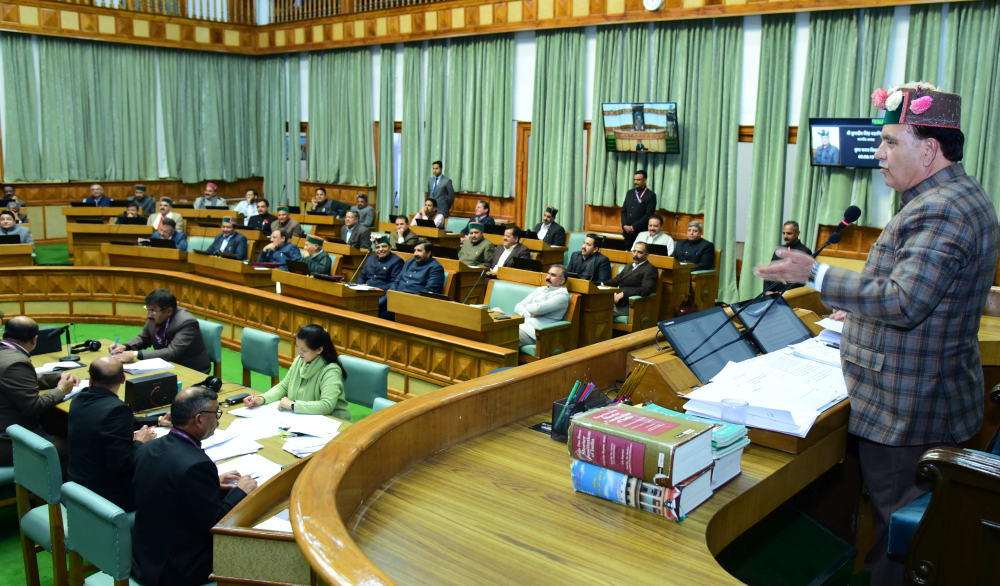 Shimla: As expected, the Budget Session 2023 begins on a stormy note as the opposition BJP on Tuesday staged a walkout over the issue of restoration of the MLA Local Area Development Fund.
As the house begins, BJP MLA Vipin Parmar raised the issue of the restoration of the MLA Fund. Failing to get heard the opposition members started raising slogans and staged a walkout from the house.
Parmar said the move to stop the MLA LAD fund was anti-people. "As many as nine MLAs have given notice under Rule 67 to allow debate on the issue, which involves not the legislators but the public," said Parmar. Demanding CM to clarify the reason behind the stopping MLA Funds, BJP member Randhir Sharma insisted on a debate over the issue.
Leader of Opposition Jai Ram Thakur said the grant of MLA LAD Fund was the right of the legislators.
Countering the attack by the BJP legislators, Deputy Chief Minister Mukesh Agnihotri said the state had been pushed to the brink of financial bankruptcy due to loans raised by the previous BJP government.
Deputy CM reiterated Congress's commitment to honouring the 10 guarantees made to the people.
Parliamentary Affairs Minister Harshwardhan Chauhan said the issue does not concern only the BJP legislators, but all the MLAs. He said the matter regarding the restoration of the fund was under the consideration of the Chief Minister.
CM Sukhvinder Singh said his government wanted to change the system as there was a big responsibility on them. He questioned the opening of 920 institutions in the last six months without staff or budgetary provisions. "A sum of Rs 5,000 crore will be required in case the institutions announced by the previous government are opened," CM commented.
Chief Minister Sukhvinder Singh assured to bring a "white paper" on the financial health of the state.
Responding to the MLA Funds, CM Sukhu clarified that the Funds weren't stopped but stalled and restoration of the MLA LAD fund would depend on the revenue in the third quarter.
Speaker Kuldeep Singh Pathania rejected the notice. Dissatisfied with the decision, the Opposition staged a walkout from the house.