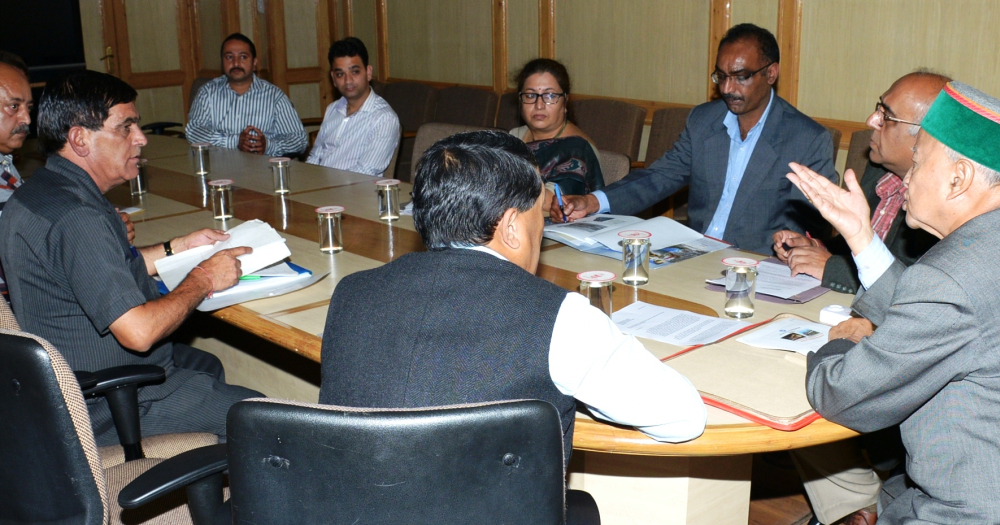 To provide adequate parking space to the residents of the Shimla town, Chief Minister Virbhadra Singh announced to construct more parking slots in town. The Chief Minister said it while presiding over the meeting pertaining to the status of parking on Design Built Operate Transfer (DBOT) in Shimla town.
Chief Minister stressed that all the parking slots being constructed in Shimla should have a roof in historic Gothic style so that these multi-storey compounds may not face any problem of leakages during rain and snow, besides being safe for vehicles.
The Chief Minster while reviewing the status of the four major parking complexes being constructed at Sanjauli, Chotta Shimla, Vikas Nagar and Near Lift stressed for their early completion.
He also directs authorities to identify more space in and around Shimla for the construction of parking slots. CM directs officials to identify open land on the Jakhu road. He suggested that Titla Hotel building near Jakhu was dilapidated and unsafe for those living there and was ever posing threat to the inmates which could be acquired and a parking space could be managed there for around 100 vehicles.
The PWD sheds and a building on the way to the Cemetery near Dhalli tunnel was also an obstruction for the Ambulance and other medium vehicles and possibilities may be explored to dismantle the same and a proper parking be constructed there.
He suggested exploring prospects of constructing parking somewhere near saint Xavier School to ease the traffic load on the roads and also asked to cover open area with green cover.
Additional Chief Secretary Vineet Chaudhry assured the Chief Minister that the direction regarding early completion of the multi- storey parking compounds would be adhered.
Additional Chief Secretary and Principal Secretary to Chief Minister V.C Pharka said that another multiple parking will be coming up near Tourist Information Centre, on Shimla-Kalka National Highway, near the new bus stand, Shimla with commercial complex on top floors.
Commissioner, Municipal Corporation Shimla Amarjeet Singh assured that Sanjauli parking slot will be completed by the end of December, 2014.
Purnima Chauhan, Special Secretary, Urban Development and other senior officers were also present in the meeting.