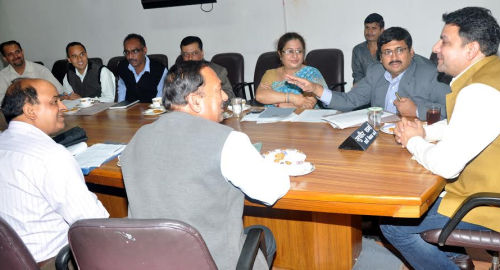 Urban Development and Town and Country Planning Minister Sudhir Sharma said that State Government was committed to provide all possible assistance to Municipal Corporation Shimla and grievances of the employees of the Corporation would be solved on priority.
He was presiding over a meeting of Joint Employees Sangharsh Committee of Municipal Corporation, Shimla here today. He said that State Government has always cordial relations with the employees and was committed for the welfare of the employees.
Sudhir Sharma said that priority would be given for filling vacant posts in the Corporation which would be filled on contract basis and preference would be given to compassionate cases. He said that the demands of the employees to resolve the pension anomalies and providing benefit of 4-9-14 would also be considered sympathetically.
Earlier, Om Prakash Thakur, President of the Committee apprised the Minister about various demands of the employees and urged for early redressal of these.
Secretary Urban Development R.D. Nazeem, Special Secretary Purnima Chauhan, Director, Urban Development J.M. Pathania, Commissioner, Municipal Corporation Shimla Amarjeet Singh, General Secretary of Joint Employees Sangharsh Committee Sukhdev Mattu and other office bearers of the Committee were present in the meeting.