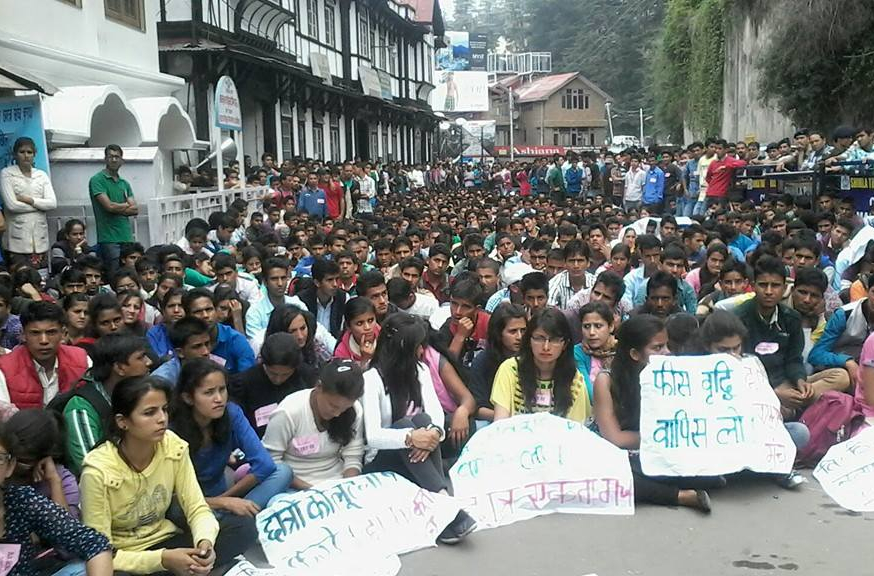 Shimla: Himachal Pradesh Chief Minister Virbhadra Singh has expressed displeasure the way the student's political unions were taking out rallies and holding dharnas in the town.
While interacting with media personnel after releasing the 'Safety Traffic Pamphlets' of the State Police Department here today, the Chief Minister said that instead of holding agitations, students political unions should go to the high powered committee with their grievances.
Chief Minister said that such rallies and dharnas were uncalled for and the students should wait for the decision of the Committee. He made cleat that the Government will not tolerate violence in and out of University and College Campus.
He clarified that the Government will place the decision of the High powered committee before the Cabinet and will take action accordingly.
Chief Minister also denied claims of closure of colleges throughout the state and accused political parties for inciting the students to agitate and hold dharnas.
Chief Minister blamed major political parties for fighting a political battle with him, under the garb of Student Unions. He dared them to come openly instead leveling charges on the Government from behind the veil.
The Chief Minister advised the students to keep their patience till the high powered committee submits its reports and not to get swayed away by certain anti-social elements who were creating furor in the name of fee-hike.
Earlier today various student political outfits hold a protest rally against recent fee hike in Shimla town here today. hundreds of protesters were demanding immediate roll back of fee hike and direct election in the Himachal Pradesh University and its affiliated colleges across the state.