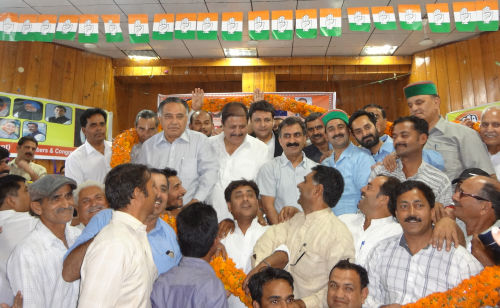 Himachal Congress President Thakur Sukhvinder Singh (Sukhu), during his maiden visit to Kangra district after taking charge, accused former Chief Minister Prem Kumar Dhumal and his family for commercializing politics in the state.
Sukhu blamed leader of opposition for indulging in nepotism by promoting his family. He added that BJP leader had resorted to politics of convenience for personal gains.
Sukhu also targeted the Himachal Pradesh Cricket Association (HPCA) headed by Dhumal's son Anurag Thakur as well and alleged that it was the only sports organisation controlled by a group of about 25 persons. He also raised question over the HPCA's Pavilion Hotel.
Congress president also criticised the previous Dhumal led government for launching various Central government schemes in the name of former Prime Minister Atal Bihari Vajpayee. He said that said schemes were generally launched in the name of leaders who were dead. He also accused the BJP from straying from policies advocated by veteran leader Vajpayee.
HPCC president asked party workers to strengthen the organisation and build it for the next 20 years. He asserted that discipline, moral values and transparency were key elements for any organisation.
He asked party workers to gear up for the forthcoming parliamentary election. He ensured party workers with better coordination between the party and the government. Cautioning workers to be aware of party hoppers, he said tough action would be taken against those practising the politics of convenience for individual gains.
He stresses for the need of regular evaluation of party activities and asked all Block committee to convene monthly meetings with an agenda focusing on Mission 2014. He added that if any party feel ignored, he/she can approach the HPCC or their respective block committees.
Minister for Food and Civil Supplies, Transport and Technical Education GS Bali, Minister for Housing and Urban Development Sudhir Sharma and Jwalamukhi legislator Sanjay Rattan and many Congress leaders of Kangra district were present during the meeting.