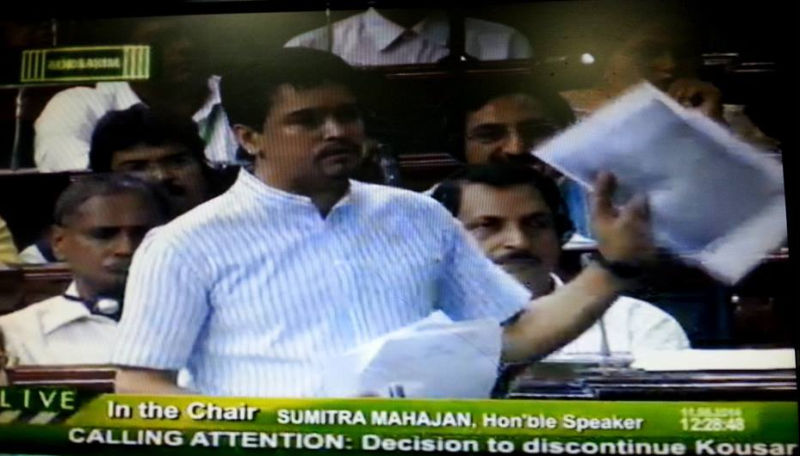 New Delhi: Anurag Thakur, Member of Parliament from Hamirpur, Himachal Pradesh raised the issue of cancellation of permission of Kausar Nag Yatra by the Jammu and Kashmir Government in the Lok Sabha today.
Anurag Thakur claimed that the Jammu & Kashmir government had cancelled the permission given for Kausar Nag Yatra under the pressure of separatist groups. He said that when Union Government has shown positive will and affirmative action by setting aside Rs 500 crore for Kashmiri Pundit Rehabilitation in the budget, separatist elements were trying to pollute the environment by giving communal angle to it.
Anurag Thakur also question Jammu Kashmir Chief Minister's silence on the issue. He said that his twitter account has gone in silence completely since wishing people on the Eid, on which otherwise he gives his opinion on the issues where even he isn't concerned.
Thakur also condemn the objection of Indian national Congress leader Mallikarjun Kharge, who objected Anurag Thakur from speaking by raising point of order under the rules and stated the Congress had failed to do anything for the Kashmiri Pundits in its tenure and now creating unnecessary ruckus in the parliament.
Anurag Thakur said that constitution guarantees every person right to practice his own faith and asked that whether this right is not for Kashmiri Pundits', he raises question.
Union Home Minister Rajnath Singh assured the house that Kashmiri Pundit issue isn't a political issue for the government but a national issue. Union home Minister said
Government is committed to rehabilitation of Kashmiri Pundit's in the valley and is serious about the issue
Singh said that every Indian of every faith, caste or creed has the right to live in his own land and shouldn't be a refugee in his own country and government is committed to provide this right to all citizens.