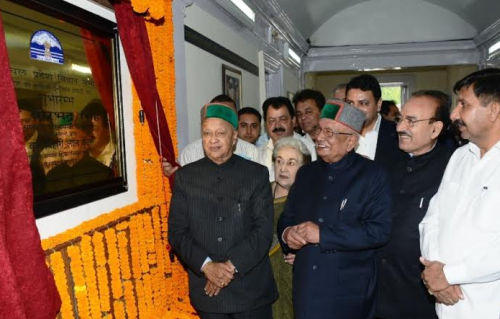 The Himachal Pradesh Chief Minister Virbhadra Singh launched ambitious e-Vidhan project of State Assembly here today.
The Chief Minister said the Himachal Pradesh Vidhan Sabha has added new chapter in its history as it had become the first State in the country to launch e-Vidhan project. He termed it as a rare feat for the State and believed it'll improve efficiency in working and it was an environmental-friendly measure as it would reduce the paper usage.
Aiming to make house proceedings and processes more efficient while reducing cost by minimizing paper usages in the house, the e-Vidhan system would fully computerize the proceeding of the legislative assembly. From this monsoon session, e-Vidhan system will maintain online records of all the Assembly's proceedings.
While announcing the launch of the innovative e-Governance solution, the Himachal Pradesh Speaker Brij Behari Lal Butail said that the Assembly Session proceedings will be completely paperless and introducing bills and laying various reports and answers to questions inside the House will be handled through specially designed software.
The touch-screen based computer systems have been deployed in Vidhan Sabha for each legislative member inside the House.
To make it error free, the e-Vidhan system will use Digital Signature Certificates (DSC) for user authentication; henceforth only digitally signed documents converted into PDF.
The e-Vidhan's Secretariat interface will manage the Questions Processing System by accepting the questions from members, issuing notices to departments, accepting replies from departments, approving the answers and fixing the dates by the Secretariat and finally creating list of Business for the day during the Assembly session.
The new system also allow common peoples' participation in the legislation process by automating the process of Assembly Bills and allowing seeking people's suggestions on bills online through a secure web interface.
Under this system, the citizens and employees will be able to submit their grievances, demands and requests to MLAs online.
The e-Vidhan project was developed as a joint venture between the Himachal Pradesh State Legislative Assembly, National Informatics Centre Services Incorporated (NICSI) and the Government of Himachal Pradesh which was sanctioned by Department of Electronics & Information Technology of India.