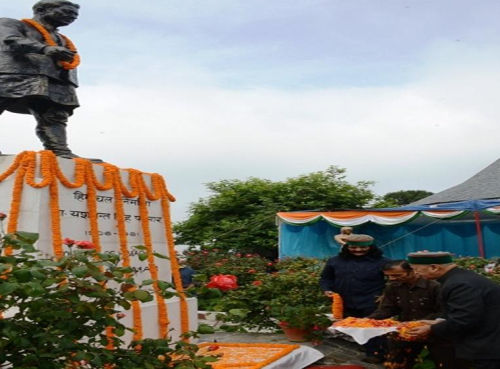 Shimla: Remembering Himachal 'Nirmata', Dr. Yashwant Singh Parmar, on his 108th birth anniversary, Chief Minister Virbhadra Singh said that Dr Parmar, besides being a parliamentarian of repute was an able administrator, a visionary and a statesman of high caliber.
The Chief Minister was speaking at Vidhan Sabha after laying floral tributes to the founder Chief Minister, Dr.Y.S. Parmar.
Chief Minister said that late Dr. Y.S. Parmar achieved extraordinary distinction of being a parliamentarian and was a great visionary and dynamic leader who dedicated his entire life for development of the hill people. He said
"It was because of the initiatives and farsightedness of Dr Parmar that Himachal Pradesh treaded on the path of rapid development and the people of State would remain indebted to him for his tireless efforts for getting separate political identity to the State"
Virbhadra Singh said that Dr. Parmar was the symbol of culture and civilization, adding that he was a versatile personality who struggled for the rights of the hill people and today whatever has been achieved by the State, was due to the path shown by him.
Chief Minister said that Dr Parmar dreamt to see the hill people to have their own identity, adding that his vision was quite clear and the strenuous task to realize this vision was fulfilled on attaining of Statehood in 1971 due to his forceful persuasion and advocacy with the central leadership then.
Vidhan Sabha Speaker Brij Behari Lal Butail welcomed the chief minister and said that due to farsightedness of Dr. Parmar, Himachal Pradesh had emerged as biggest developing State of the country and had achieved many milestones of development. He said that Dr Parmar was a man of high ideals and devoted his life for the welfare of the people of the State.
A short documentary on the life of Dr YS Parmar was also shown on the occasion by the department of Information and Public Relations.
Earlier in the morning, Chief Minister Virbhadra Singh offered floral tributes before the Statue of late Dr. Yashwant Singh Parmar at Daulat Singh Park at the historic Ridge Maidan, Shimla.
Vidya Stokes Irrigation and Public Health Minister, Kaul Singh Thakur Health and Family Welfare Minister, Sujan Singh Pathania, Agriculture and MPP Minister, Mukesh Agnihotri, Industries Minister, Sudhir Sharma, Urban Development Minister Col. Dr. Dhani Ram Shandil, Social Justice and Empowerment Minister, Chief Parliamentary Secretaries, Tikender Singh Panwar Deputy Mayor, MLAs and Ex MLAs, Chairman and vice chairman of various boards and corporations, DGP Sanjay Kumar, Deputy Commissioner Dinesh Malhotra, Commissioner MC Shimla, Amarjeet Singh other senior officer of the State and prominent persons of Shimla town were present among others on the occasion and also paid floral tributes to Dr Yashwant Singh Parmar.