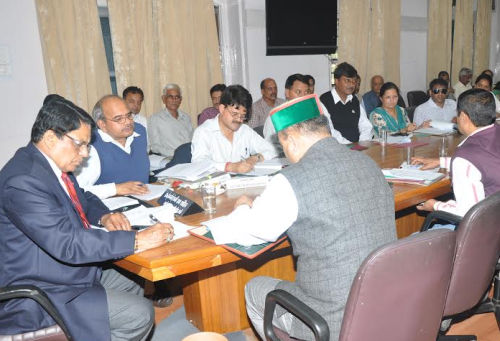 A meeting of Board of Directors of Himachal Backward Classes Finance and Development Corporation (HBCFDC) was organized here today under the chairmanship of Social Justice and Empowerment Minister Dr. (Col.) Dhani Ram Shandil.
Speaking on the occasion, the Minister said that the Corporation was facilitating the members of Backward Classes by providing loans on nominal rate of interests to having income upto Rs. 81,000 in rural areas and Rs. 1,03,000 in urban areas. In a major decision, the State Government had waived off two percent additional penal interest for the defaulters under one time settlement. This decision had benefited 627 loanees to the tune of Rs. 1.60 lakh and it had been decided to extend this scheme upto 31st December, 2014.
He stressed the need to check the defaulters and ensuring early recovery of the loan as other beneficiaries were deprived of due to defaulters. He said that the Corporation was providing loans at very cheap rate of interest and it should be ensured that more eligible beneficiaries were benefited.
Dr. Shandil also stressed the need for organizing more awareness and training camps so that more beneficiaries could come up for taking the benefit of loan to start self employment avocations. He said that efforts should be made to introduce such courses which had more employment generating potential.
He directed that the Board of Directors meeting of the Corporation should be organized quarterly so as to ensure effective implementation of the decisions besides getting new suggestions from the official and non official members.
Principal Secretary, Social Justice and Empowerment Dr. P.C. Dhiman said that the Corporation would enhance its fixed targets for the allocation of loans during this financial year and it would be ensured that more beneficiaries were covered under the loan scheme.
He said that the loaning limit had been increased by the Corporation from Rs. 15 crore to Rs. 20 crore which would provide more opportunities to the beneficiaries to start their enterprises and other employment generation activities. Besides, more students would be covered under 'Ankaksha' scheme for getting higher education in India and abroad.
Managing Director of Himachal Backward Classes Finance and Development Corporation J.R. Katwal said that the Corporation had entered into an arrangement with National Institute of Fashion Technology, Kangra for providing certificate courses of three months duration to 90 students in Fashion Technology and Design. He said that Corporation was providing facility of educational loan at 4 percent rate of interest in India and 6 percent for abroad.
He said that the Corporation had disbursed Rs. 138.78 lakh upto 25th July, 2014 and Rs. 111.35 lakh had been recovered during the period. He said that during last financial year, the Corporation disbursed Rs. 4575.14 lakh to 3969 beneficiaries.
Katwal said that the Corporation was also providing training facility through government and semi-government institutions on latest techniques for successful utilization of loans in various trades.
He said that in of its foremost initiatives the Corporation had constituted Gratuity Trust for its employees and contribution of 26 lakh had been deposited.
The Board of Directors gave its approval for the budget of the Corporation for the year 2014-15.
The non-official members of the Board of Directors also gave their valuable suggestions.