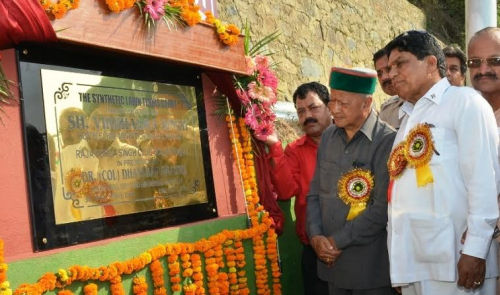 Solan: Chief Minister Virbhadra Singh inaugurated the Synthetic Tennis Court constructed at the cost of Rs. 15 lakh at Solan, here today.
While speaking at the occasion, he stressed the need to follow the rules and regulations strictly in the construction of buildings so as to ensure planned and systematic development of the towns of the State.
Referring to Solan, the Chief Minister said that it was a fast developing town but the administration should ensure that no rules were flouted in construction works and common people get better civic amenities.
Virbhadra Singh said that the Government was planning to develop satellite towns and to begin with, measures had been taken to de-congest Shimla town. The suburbs of Shimla were being explored to decongest Shimla town adding that the places like Ghannahatti and Kandaghat were good options to shift some institutions from Shimla and Solan towns to ease out the pressure from these two important towns.
He said the need of the hour was to create more infrastructures for sports and make play fields for the children but it was being observed that many buildings were coming up in most unplanned manner which could lead to any mishap or big natural disaster.
He directed the Deputy commissioner, Solan and Nagar Parishad authorities to ensure the imposition of house tax and cess from big business establishments, adding that strict action be taken against those who refuse paying such taxes and be penalized for not following the law of the land.
He said that an Electricity Sub-Station was nearing completion in Solan and it would help in solving the water lifting problem for the Solan town as enough water was available at the source. He said that to keep the surroundings clean a proposal for disposal of garbage was being considered wherein Solan, Shimla, Kandhaghat would be considered as a single unit and one Garbage collection centre would be made for all these townships for proper garbage treatment.
The Chief Minister honoured Lieut. Saloni Gandhi & Sub Lieut. Surbhi Gandhi, the two sisters from Solan on the occasion who were selected in the Indian Navy. He also honoured Dr. Laxmi Sharma, the veteran Tennis player of the district.
The Chief Minister also announced Rs. 10 lakh for the Durga Club.
Social Justice and Empowerment Minister, Dr. Col. Dhani Ram Shandil, Chairman APMC, Ramesh Thakur, Chairman H.P Buildings and Other Construction Workers Welfare Board, Bawa Hardeep Singh, Member BoD Tourism, Surinder Sethi, Vice-Chairman Khadi Board, Ramesh Chauhan, Deputy Commissioner Solan, Madan Chauhan, SP Solan Dr. Ramesh Chhajta were also present on the occasion amongst other dignitaries.