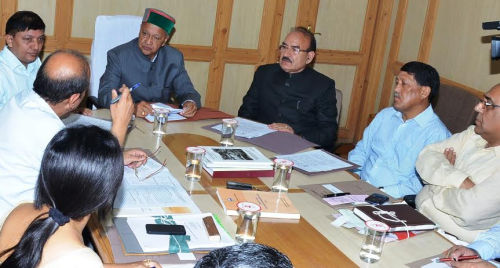 In the Himachal Pradesh Disaster Management Authority meeting, it was decided to establish a State Disaster Response Force (SDRF) comprising of well trained and motivated team of young recruits.
In the review meeting of state preparation for the future challenges, presided by the Chief Minister Virbhadra Singh, decided to begin with, three Companies of 3rd Police Battalion, Pandoh, in district Mandi comprising of as many as 300 Jawans, would be given operational level training right from disaster response, prevention, mitigation and capacity building within no time.
It was decided to constitute a dedicated team of about 30 Jawans of Home Guards would be given adequate and constant training and deployed in each districts to promptly act during disasters which would be expanded in times to come. The equipments required to be used during disasters would be made available down below to Tehsil level.
The Chief Minister, while raising concern over the Thalot incident said that Bilingual hoardings with warnings be installed at vulnerable points mainly near river beds or areas prone to land slips so as to avoid and warn the locals and the tourists venturing out into the rivers or such areas.
State Disaster Management Authority also decided to adopt the modern warning systems and applying GPRS technique so that in times of any mishap or disaster in a particular area, the people around could receive the SMS instantaneously.
Chief Minister also assessed the preparation of Disaster Management Authority for Monsoon and winter season. He directed to give the proper publicity to the telephone numbers of Control Rooms and Nodal Officer of the district through both electronic and print media and be vigilant towards weather forecasting system and be prepared for the evacuation of people and cattle to minimize the damages caused by heavy rains and snowfall.
He also asked to report the loss of life and property to the State Government for seeking central assistance well in time.
Earlier, Health and Revenue Minister Kaul Singh Thakur, who is also Co-Chairperson of the Himachal Pradesh State Management Disaster Management Authority (HPSDMA), said that the Government was still awaiting the balance amount from Government of India in lieu of the loss suffered by the State due to heavy rains last year. He said that Kinnaur and Sirmaur were the most disaster prone areas in the State and the disaster affects the entire socio-economic profile of the State.
Rajinder Rana, Vice-Chairman of the SDMA also stressed for using latest techniques and warning systems in post and pre-disaster and to create more awareness till school level. He also stressed upon adopting Information, Communication and Technology (ICT) for creating awareness among the masses.
Principal Secretary, Revenue Tarun Shridhar detailed about the steps being taken by the SDMA and the steps being taken by the State Government to cope disasters. ACS, Vineet Chaudhry, ACS VC Pharka, DGP Sanjay Kumar and other senior officers were present in the meeting.