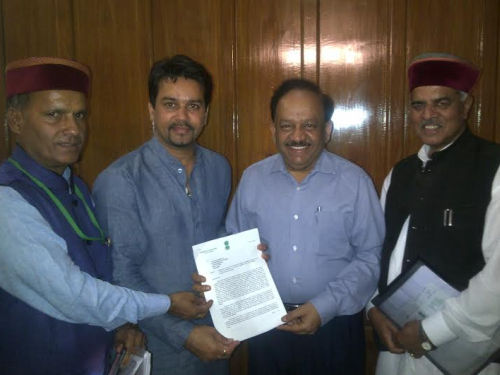 To restore 100 each MBBS seats in Indira Gandhi Medical College, Shimla (IGMC) and Dr Rajendra Prasad Medical College, Tanda, all four Himachal Pradesh parliamentarians Shanta Kumar, Anurag Thakur, Virender Kashyap and Ram Swaroop called on Union Health and Family Welfare Minister Dr Harshwardhan and demanded his intervention.
Himachal Parliamentarian presented the state case and asked Union Health Minister to look into it positively and save young medical aspirants, whose were left in a quandary
Parliamentarians also raised their concern over the decision of giving permission to admit 150 students in a first batch of the private medical college at Kumarhatti in Solan district.
BJP MPs claimed that the Union Health Minister told them that the state government was asked to meet certain requirements but it was not done despite writing to the state twice. However, Union Minister has assured to restore the seats immediately after the state government removed the shortcomings pointed out by the MCI.
The Medical Council of India (MCI) has not renewed the number of seats at IGMC and Tanda Medical College to 100 each. However, administration has conducted counselling for 200 seats. At present both colleges have permission of 115 seats.