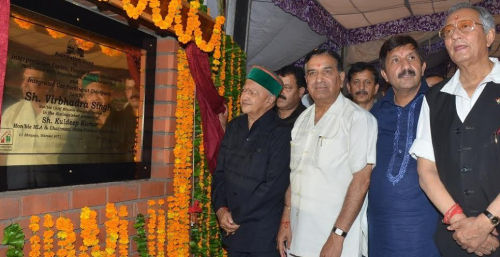 Chintpurni: Chief Minister Virbhadra Singh laid foundation stone of Mata Chintpurni Tourist Multipurpose Project to be constructed at a cost of Rs 45.50 crore today. Project will comprise of parking besides all the basic amenities and a large Hall with a capacity to accommodate more than 400 persons.
He announced widening and metalling of road from Amb to its nearest railway station, and Ayrvedic dispensary at Gangoti. He also announced expansion of Community Health Center (CHC) Dhusada. Besides, the Panchayats which do not fall under the temple trust would be brought under the ambit of the same announced the Chief Minister.
Later, he also listened to the grievances of the people at Bharwain.
While addressing a gathering at Chintpurni, Chief Minister said the Govt wanted to develop Himachal as a tourism Hub. He assured to develop all necessary facilities to the tourists so that when they go back to their homes, they carry an impression of a friendly and most hospitable State and rather wish to visit the state again.
He also advised local people to treat visitors and tourists with respect on their arrival to the State.
In his address, CM said that he wants to carry the people of the entire State along with him and don't believes in politics which in long run proves detrimental. He asked to check anti-social elements who try to differentiate and divide the people on the basis of caste, region and culture.
He urged the people to not make mockery of the democratic institutions, may it be both the houses of parliament or the Panchayats or the Vidhan Sabha. He said that Panchayats need to be held in high esteem and their decisions were to be honoured.
Chairman, HP State Finance Commission Kuldeep Kumar welcomed the Chief Minister and also honoured him on the occasion.
Vice Chairman H.P Tourism Development Board Major Vijay Singh Mankotia while speaking on the occasion said that the prestigious project would facilitate pilgrims visiting the holy Chintpurni shrine. He said that the project would be completed within a period of two years adding that the tourism department would develop parking facilities in various towns and near the religious shrines of the State.
Industries Minister Mukesh Agnihotri, Chairman Kangra Central Co-operative Bank, Jagdish Sapheia along with other influential people of the region were also present on the occasion amongst others.