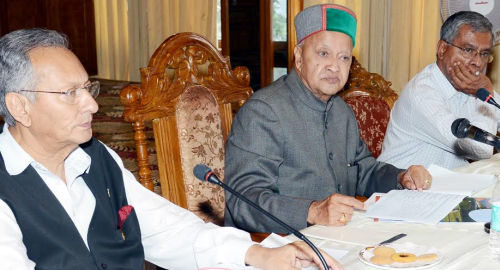 In the sixth meeting of H.P. Tourism Development Board here today, Chief Minister Virbhadra Singh expressed happiness over UNESCO heritage status for Great Himalayan National Park, in Kullu district and said that it would certainly go a long way in promoting tourism in the State.
Chief Minister stated that the tourism industry contributes 9.75 percent to the Gross Domestic Produce of the State and it can prove to be a game changer for the State if chain of big International Hotels be invited and asked to invest in Himachal Pradesh. He suggested facilitating big hoteliers by providing them land on lease to construct their hotels.
Chief Minister said that conclaves or seminars in association with FICCI, ASSOCHAM or CII should be held in near future, as these hoteliers were also members of such associations and could be urged for investing in the State in interest of tourism industry which would give fillip to the Tourism Industry and Himachal Pradesh would be established as a leading global sustainable tourism destination by 2029.
He also stressed upon renovating and re-constructing the ancient temples of the State and also advised the department of Language, Art and Culture to re-construct such temples, which were of late gutted with the same old traditional architectural design.
The Chief Minister also asked to complete required formalities of 'Jakhu Ropeway Project' so that project completed without further delay. He also proposed for another Rope Way from Sarahan to Bashal Manda of Kinnaur district.
He emphasized the need to fast-track the infrastructure projects with definite time lines and stressed that critical gaps in the infrastructure for the growth of tourism be met on priority.
He also asked to chalk out a plan for mono-rail project in Dharamshala, adding that large scale publicity campaigns must be carried out to sell the brand 'Himachal' and any negative publicity that might prove ruinous to the States image must be rebutted aggressively.
The Chief Minister also asked to incorporate the Minister for Urban Development in list of Board of Members.
Vice Chairman of H.P. Tourism Development Board, Major Vijay Singh Mankotia suggested inviting reputed brands from the hospitality to showcase the true potential of State as a tourist destination. He said that efforts were afoot to have a Brand Ambassador for tourism promotion in Himachal Pradesh.
Mohan Chauhan, Director Tourism detailed about the agenda and steps being taken by the department to boost tourism. Chief Secretary P. Mitra, Additional Chief Secretary (Tourism) V.C. Pharka were present in the meeting besides other official and non-official members of the Board.