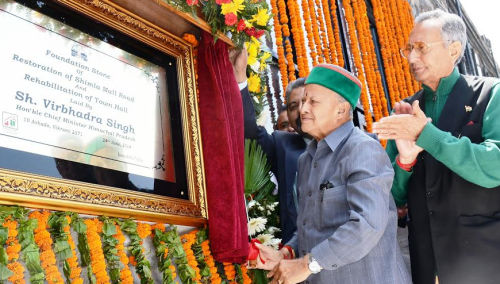 To restore and preserve the traditional glory of Shimla town, Chief Minister Virbhadra Singh today laid the foundation stone of the two ambitious projects estimated to cost of Rs 30 crore.
The Shimla Mall road restoration project includes better road surfacing from CTO to Shimla club and all roads leading from Mall road to the historic Ridge. The re-habilitation of heritage Town Hall and beautification drive will also include proposals for maintenance of gardens and parks near Town hall, Daulat Singh Park and Rani Jhansi Park along with restoring and re-surfacing of the historic ridge maidan with high density Macadam bitumen along with stone edging along both sides of the road.
Speaking on the occasion Chief Minister said
"Government was committed to preserve the old heritage buildings of the State and every effort would be made to maintain magnificence of such buildings"
He said that the department of Tourism proposes improvement of areas near CTO, Scandal Point, Gathering Space in front of Town Hall, Rain shelters adjacent to Rotary Club, Sher-e-Punjab junction sitting place near Oberoi Clarkes Hotel etc.
Singh added that the work of rehabilitation and conservation of heritage building of town hall would be done without disturbing the outside structural design of the building. Besides, it has been proposed to install directive, instructive and descriptive signage for heritage buildings and other places at all major junctions and along the roads to facilitate the visitors.
This would not only attract the tourists to visit Shimla town in numbers but would also add exquisiteness to the town, CM believes. The Chief Minister also said that town would give a different and magnificent look during the night after illumination of the Gaiety theatre, Town Hall, Scandal point, Ashiana at Ridge, Christ Church, State Library and Chinar Tree.
The Chief Minister also inspected the design plans and map of the two projects.
Director Tourism Mohan Chauhan informed about constructing stone V & U drains along all retaining walls, and stone edging on both sides of the roads besides cast iron benches with wooden planks with and without backrest, double side benches, Insitu benches and Platforms with railing as back rest would be erected.
He said that the department of tourism had proposed three Escalators to be set up adjacent to Khadi building, Jain Dharamshala and Snow White Drycleaners respectively.
He said that all the under ground wires to be laid would be done prior to surfacing of the roads on Mall.
Major Vijay Singh Mankotia, Vice-Chairman, Himachal Pradesh Tourism Development Board (HPTDB), Vice-Chairman, Himachal Pradesh Tourism Development Corporation (HPTDC) Harish Janartha, Mayor, Sanjay Chauhan, Additional Chief Secretary, Tourism V.C. Pharka, Deputy Commissioner Shimla, Dinesh Malhotra, Commissioner, Municipal Corporation, Amarjeet Singh, Director, Urban Development, Capt J.M Pathania, Councilors and prominent persons of the town were present on the occasion.