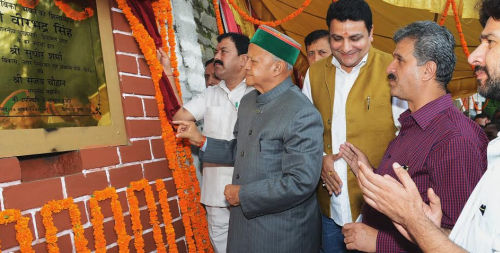 To rehabilitate the street vendors of Shimla city, Chief Minister Virbhadra Singh laid the foundation stone of Ajivika Bhawan near HPTDC Lift to be constructed at a cost of around Rs. 4 crore.
The eight storey building will be built on the old Bakery Building under the challenge fund received from the Ministry of Housing and Urban Poverty Alleviation and the Shimla Municipal Corporation (MC) has already received Rs 2.50 crore from the ministry in 2013.
The Aajivika Bhawan building would consist of 222 shops. Total number of 168 registered vendors including 76 Tibetans sitting in the bazaar area and 27 other vendors from the Rivoli road were proposed to be rehabilitated in this building. The MC house and vendors have already given their consent.
The Aajivika Bhawan will also have a provision of parking for 48 vehicles, lift facility besides toilets and drinking water on each floor and solar lighting etc.
It's learned that the after rehabilitating venders from Rivoli road, it'll be declared the ambulance road providing facility to residents in the Lower Bazar, middle and other localities.