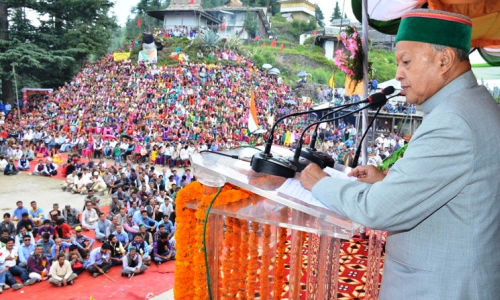 Chief Minister Virbhadra Singh inaugurated the traditional Bishu fair at Ghoond in district Shimla today. While speaking on the occasion, the Chief Minister said that the fairs and festival were part and parcel of the life of the people of the Himachal Pradesh and we need to carry on and preserve the traditions customs, culture and language for the coming generation. He said that the ancient architectural look of the temples to be renovated should be maintained as it will keep reminding us of our traditions and further strengthening our faith in local Devis and Devtas.
The Chief Minister said that 'Thoda' should be incorporated in the Rural Games and competitions so as to promote the traditional game.
He also ensured to complete the World Bank funded Theog-Hatkoti-Rohru road well in time.
He announced starting of science classes at GSSS Ghoond. He announced a sum of Rs 5100 each to the Thoda teams of Kalasi (Balsan) and Guvai (Sandhu). He directed the authorities to maintain the traditional looks of the temple and announced rupees four lakhs for its decoration and advised not to carry out any commercial activity or construction in front of the temple.
The Chief Minister also inaugurated Ghoond Kenchi-Pantha road and also performed the foundation stone laying ceremony of Lift water supply scheme Giri Khad Karau to Dendhar in Gram Panchayat Ghood to be constructed at a cost of Rs. 1.90 crore. This will benefit 26 habitations of two Gram Panchayats with population of around 2000. This scheme will solve the water problem of the area till the year 2034.
Later, he inaugurated the newly constructed Gram Panchayat building at Ghhond constructed at a cost of Rs. 14.50 lakh. He announced Rs. 2500 each to the children of three government schools who presented colourful cultural programme on the occasion.
Earlier the people of Bagain Panchayat welcomed the Chief Minister en-route Ghoond. The Chief Minister on their demand upgraded the Damyana Middle School to High School and also ensured adequate funds for the Panchayat Ghar.
Local MLA, Balbir Singh Verma while welcoming the Chief Minister in his assembly segment said that the Chief Minister was well aware of the problems of the area. He thanked the Chief Minister for providing HRTC Depot at Nerwa, Sub-Tehsil at Deha and upgrading the far flung Kupvi Sub-tehsil to Tehsil. He also demanded up-gradation of the Community Health Centre and science lab facility in the GSSS Ghoond. He also demanded 'Thoda' a traditional game to be given National recognition.
Former Member of Parliament, Pratibha Singh, Chairman, State Agriculture Marketing Board, Subhash Manglet, Vice-Chairman HPSIDC, Atul Sharma and other local leaders were present on the occasion amongst others.