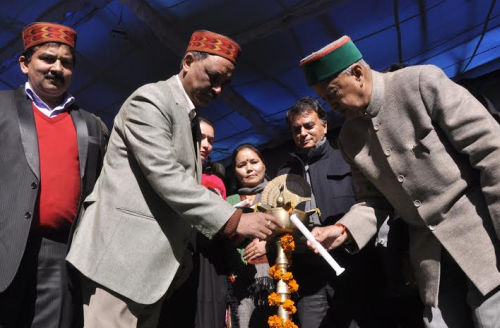 Manali: Chief Minister Virbhadra Singh inaugurated the National Level Winter Carnival of Manali here today. While addressing the gathering, Chief Minister said that Himachal Pradesh had vast potential for tourism promotion and efforts were being made to develop various areas from tourism point of view.
Virbhadra Singh said that environment conservation would was main focus of the State Government along-with promotion of tourism. He said that Manali and its surrounding areas were full of natural beauty and efforts would be made for further development of these areas for tourism activities by providing basic amenities adding that it would be ensured that the natural beauty of the area was kept intact. He said that a bridge would be constructed at Nehru Kund to streamline the traffic in and around Manali town and monetary provision would be made for constructing a stadium for organizing the Winter Carnival.
He announced to upgrade High School Fojal to Government Senior Secondary School and sanctioned Rs. two lakh for providing furniture and other facilities for Press Club, Manali. He announced to open Hamta road for tourists and to link this area with Adi Hydro Project for resolving the electricity problem of Manali area.
Earlier, the Chief Minister performed the foundation stone ceremony of a bridge at 17 Miles near Manali to be constructed at a cost of Rs. 7.73 crore. He also inaugurated the Sahara Old Age Home at Alaeu village and Rest House of Zila Parishad at Manali constructed at a cost of Rs. 63 lakh and Conference Hall of Press Club Manali constructed at a cost of Rs. 6.40 lakh. He laid the foundation stone of Modern Fire Station at Manali to be constructed at a cost of Rs. 2.57 lakh.
Virbhadra Singh paid obeisance at Hadimba Devi Temple and flagged off the cultural troupes of various States, tableaus of local Mahila Mandals and troupes of other organizations depicting cultural heritage.
Chief Minister lauded the efforts of Adarsh educational and social welfare Samiti for opening Old Age Home at Aleau and said that State Government was committed for welfare and honour of senior citizens. He added that every possible assistance would be provided to this Old Age Home.
Roop Singh Negi, Chairman, Nagar Parishad, Manali welcomed the Chief Minister.
MLAs Karan Singh, Maheshwar Singh, Spokesman, PCC Bhuvneshwar Gaur, District Congress President Budhi Singh Thakur, Forest Minister Thakur Singh Bharmauri, Rural Development and Panchayati Raj Minister Anil Sharma, Former Minister Satya Prakash Thakur, Chairman Zila Parishad, Hari Chand Sharma, Chairman, Wool Federation Raghubir Singh Thakur, PCC General Secretary Shri Sunder Singh Thakur, President Hotelier's Association Manali Anup Thakur and prominent people of the town were present on the occasion.